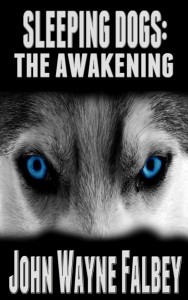 Sleeping Dogs: The Awakening
by John Wayne Falbey
Genre: Techno-political Thriller
Word count: 144,000
Sleeping Dogs: The Awakening is the first in a planned trilogy. One of its premises is that in every generation Mother Nature produces a handful of individuals who are beta models of human beings in future generations. They are more evolved.
What if scientists discovered this anomaly and developed a means of identifying these individuals? What if the intelligence and military communities recruited and trained them to use their extraordinary abilities for the blackest of black ops missions? What if something caused them to focus their bloodlust on an enemy destroying the U.S. from within?
A second premise presents another frightening, but equally plausible scenario. The Soviet Union spent decades and enormous capital trying to subvert and destroy America's social structure and cultural values. The USSR is gone, but what if another interest with similar goals succeeded to the assets it implanted and left behind? What if the current political turmoil and systemic upheaval is a result of such continuing efforts? Sleeping Dogs explores this frightening possibility with relentless action, crisp dialogue, fully drawn characters, and thought provoking plot twists.
This title is available from Amazon, Smashwords, and Barnes and Noble. Continue reading "Book Brief: Sleeping Dogs"