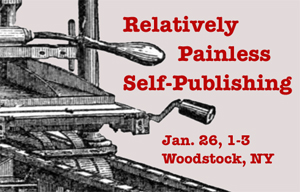 From finalizing a manuscript to crafting a professional-looking cover, from learning how to navigate the common publishing channels to the ever-changing book marketplace, this comprehensive workshop will be packed with practical tips to help self-publishing authors get their words out to the world. Workshop presenter Laurie Boris is the author of four novels and editor of many more, including three Amazon bestsellers.
Fee: $10 (at door; includes reference materials)
When/where: The Golden Notebook Bookstore, Woodstock, New York, Sunday, January 26, 2014 from 1:00 to 3:00.
For more information, please visit their website.
---
Indies Unlimited is pleased to provide this contest information for the convenience of our readers. We do not, however, endorse this or any contest/competition. Entrants should always research a competition prior to entering.