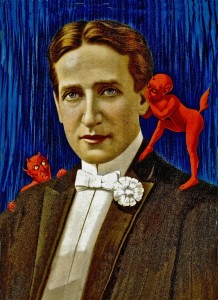 Demons. We all got 'em … what do we do with 'em. History is full of accounts of famous authors and their addictions. By no means is this post a psychological treatise on alcoholism and addiction, nor is it a preachy "get you act together" post. Everyone one of us deals with something. What we do with it makes all the difference in the world.
If you look back in history, some of it still living, you can find a Hall of Fame of great writers that struggled with some form of addiction or abuse. William Faulkner, F. Scott Fitzgerald, and Edgar Allen Poe all have well-documented lives relating to alcohol and its association to their writing … and their death. Many of the early authors may not have linked their demons and health.
Others were fully aware of what they were doing to themselves. Hunter S. Thompson once said, "I wouldn't recommend sex, drugs or insanity for everyone, but they've always worked for me." Not to be outdone, Truman Capote quipped, "I'm an alcoholic. I'm a drug addict. I'm a homosexual. I'm a genius."
One of the most famous of all is Ernest Hemingway. This American literary icon literally drank himself to death before committing suicide in 1961.
This is not an issue from the past either. Stephen King wrote about his issues in his memoir, On Writing. If you were like me, I was shocked to hear of his battles with cocaine and alcohol.
Herein lies the question: do the demons make you a better writer? That's a personal question. With the authors of the past, we'll never know. According to accounts, Faulkner never drank while writing. He used alcohol to escape when not writing. However, many died at an early age due to the abuse caused by their addictions.
Not all demons come from addiction — abuse, sex, health, and relationships — all foster demons. Many times, our demons are a source of inspiration, healing, and of course, writing material. Look at how pop star Taylor Swift has used her relationships in her craft. Probably half of her songs are stories about love gone wrong … and she's made millions off it.
As writers, we spend hours alone, typing away on the keyboard, with the voices in our heads leading the way. If you've tucked away demons in there with the voices, don't let them go to waste. Put them to work, helping you write the best stuff you can. Bring that emotion and fear out into the public. As a writer, you are one of the few people in the world who can tell that story. That's when people can feel, touch, taste, and smell what is out there … when people say, "That dude has some serious issues."
I say, don't let your demons live rent-free in your head. If you've got them, use them. Have you put your demons to work for you?