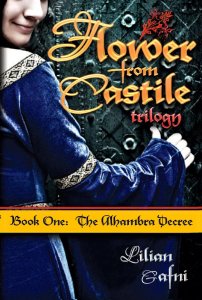 The Alhambra Decree
by Lilian Gafni
Genre: historical fiction
398 pages
4.0 average on 54 reviews
The year is 1491, and sixteen-year-old Isabella Obrigon is kidnapped from her privileged life. When told she isn't of Spanish noble blood, but rather the child of a Jewish woman who died in childbirth, Isabella becomes personally embroiled in the terror of the Inquisition. She finds herself imprisoned in the famed fortress of Alhambra, where an encounter with mysterious Miguel Costa impels her to accept having been adopted and to vow to find her birth parents.
The Spanish monarchs fight to unify Spain as a Catholic nation; as soon as the war is over, the Queen Isabella must fulfill her vow to the grand inquisitor to rid Spain of all heretics. She decrees the Jews' exile.
Isabella Obrigon must decide whether to follow her heart and join her endangered brethren seeking exile, or stay and live a lie.
The Alhambra Decree: Flower from Castile Trilogy Book One is available from Amazon.com,  Amazon UK, and all major online retailers.

Exclusive excerpt from The Alhambra Decree by Lilian Gafni
"I won't stay here!" Isabella said adamantly, finding her voice after the initial shock of learning their intentions. "You can't make me!"
"My dear child," answered Téresa, "no one will harm you. You have my word."
"Your word is the word of a traitor!"
Téresa looked at her with a smile. Isabella's accusation had no effect on her. "I've told you that everything will be explained to you when we arrived. Now is the time for revelations."
Isabella jumped up and covered her ears with her fists. "I won't listen to you! You're a criminal. Your words are worthless! Worthless! You hear!" She stamped her foot.
Téresa looked at her with a motherly expression on her face. She got up and prepared to leave Isabella in Boabdil's care. As Isabella watched Téresa walk toward the wide exit doors, she saw that the only link to everything familiar was about to disappear.
"No! Don't go!" Isabella heard her voice break in a near sob. "I'm prepared to hear what you have to say." Her voice quieted.
"All right," said Téresa. She returned to her cushions. Isabella followed and resumed her cross-legged position on the floor.
Téresa turned to Boabdil and said, "His Excellency will be a witness to my words." Then she turned to Isabella and spoke. "We brought you here for your protection."
Isabella looked at Téresa again with contempt.
Téresa continued. "You're not the daughter of your parents. You were adopted as a young baby by your present guardians and parents."
After a stunned silence Isabella yelled, "No! It isn't true! It isn't true!"
"It is true. If you could ask them now, I know they won't deny it. Your true mother was a Jewish woman who lived in Portugal. It means that you're not a Catholic Spaniard but the Jewish daughter of that woman. Unfortunately, she died giving birth to you. Your uncle then took you to dada Hannah, a Jewish woman who had converted, and she was a housekeeper for your adoptive parents. Since she was already working there, she could help look out for you."
Isabella was stunned. Then she remembered dada Hannah telling her stories from the old Bible when she was a young child, stories about Moses and Abraham, the "God of Abraham," Joseph and the Maccabees, and other events from a Jewish perspective in history. Her parents reprimanded Hannah many times about filling the mind of a young girl with exaggerated tales. Now, Isabella remembered the look between her parents when the subject came up, but still couldn't believe what she was hearing.
Isabella felt her heart was breaking into pieces, and when she recovered, she said to Téresa in a choked voice, "Even if what you're saying is true, why have you brought me here? Here, where the barbarian enemy lives. Don't you care about my welfare?"
Téresa glanced at Boabdil. He only nodded his head, and his face remained placid, seemingly unfazed by Isabella's insult.
"I do care for your safety. That is why you're here. You know that converted Jews everywhere in Castile are watched and spied upon to see if they relapse. Before long, the arm of the Inquisition is bound to find you and brand you, too, as a Marrano."
"I'm not a Marrano! I was raised as a faithful Catholic and will remain so no matter what you say!" Isabella was now in tears.
Téresa had a pained look on her face. "No matter, my child. It's too early for you to believe what I just said. Just remember that we are truly looking after your welfare. Good-bye, my child." Without another word, Téresa left the courtyard.
Isabella sat numb for a moment, not grasping fully what was happening to her. What she had just experienced and heard was worse than any nightmare. Before she could understand her action, she jumped up from the cushions and ran after Téresa. "Wait! Wait for me!" She ran back through the corridors by which they had entered, but Téresa was nowhere in sight. When Isabella reached the exit to the palace, she saw the horses galloping away on the avenue. She ran down the gray cobblestones after the horses as fast as she could, but they gained ground and disappeared from view. Exhausted, she threw herself on the ground and sobbed.