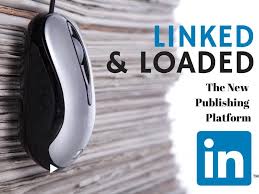 Are you looking for a way to get more eyes on your content? Do you want to get more mileage from your existing blog posts? LinkedIn is stepping up their game with LinkedIn Publisher. At the beginning of the year, LI selected about 500 "influencers" to publish long-form posts on LinkedIn. Now, LI has decided to roll out the program to all LinkedIn members. The roll-out is gradual and you'll be notified on your homepage when you've been granted access to the publishing tool.
Here's the good news … you'll be able to use LinkedIn Publisher to republish blog posts! This a perfect way to extend the life of work you've already done. If you go this route, you'll want to make sure to follow a couple of suggestions.
Change the title of your post. By changing the title, you'll have a better chance of Google picking up both your posts in search results. It doesn't matter that they have the same content — what matters is that your posts will be showing up more frequently in search.
Wait a couple of weeks before republishing. You'll want to give the Google Bots enough time to index the content. Believe it or not, the Bots know which one is the original and will rank it higher. Of course, that's what you want to happen. If you have a choice, you want readers to go to your blog rather than LinkedIn.
Include a disclaimer (also known as disclosure). It's always good etiquette to include a line that references your original source and mentions that the content has been previously posted elsewhere. That way, if readers like what they see, they know where to get more goodies. It also increases your credibility quotient; you're being honest about repurposing your work.
According to LinkedIn, there are some distinct advantages to publishing your posts.
Your content becomes part of your professional profile in LinkedIn.
It's shared with your connections and followers.
LinkedIn members can follow you from your posts without "connecting" with you professionally and they'll be notified when you publish next.
Your posts are searchable both on and off LinkedIn.
LinkedIn is a different animal than Facebook or Twitter. It's considered the "professional" network, so it's best to keep that in mind when deciding if you should post on the site. The types of posts that work best include "how to" posts. According to LI, the optimal length is over 600 words — even up to 2,000 words have performed well. Headlines are important: using numbers and lists in headlines works best, "Top 10 Ways to …" or something like that.
The site itself works similarly to a basic blog platform but without all the bells and whistles. You can upload multiple graphics/pictures, however, you can't categorize or tag the posts very well. LinkedIn provides a few options for tags, but it has to be their tags. You'll want to use the usual methods of SEO within the post like keywords, headers, bullets, hyperlinks to offset the inability to tag posts.

As always, there's one little catch. You may not have it yet. LinkedIn is rolling the program out to members a little at a time. How do you know if you can publish?
Near the top of your homepage, you should see a pencil icon with "publish a post" message. Click the icon to begin. It's pretty straightforward from there.
Now you have a new way to get your posts out. Be sure to post often and build your following. You can share across platforms as well, LinkedIn provides buttons for simple sharing. Have you posted a blog to LinkedIn? If so, let us know about your experience.