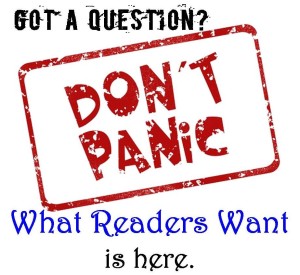 As an author, do you ever struggle with a decision about your book and wonder, "What would a reader say?" You probably aren't the first author to wonder about that same thing. Indies Unlimited has two reviewers on our staff, the fabulous Cathy Speight and venerable Mr. BigAl, who are here representing readers. In this series, we'll pose your questions to them for their take and encourage other readers to weigh in with their thoughts.
In this post I'll answer a question that has been posed by an author looking for a reader's opinion, starting with The Case of the Long Frikken Book.
First the question from the author:
I've got a frikkin 200,000 word opus I've been working on. I thought about slashing it down to under 100k, but I decided the story may be better served leaving it long and splitting it into two books "Book 1" and "Book 2" literally. (Same title on both books, just 1 and 2 would differentiate them.) And possibly offering it in a boxed set at a discount as well. Book 1 would stand on its own, as would Book 2, but Book 2 would be much better served if Book 1 was read first. Would readers prefer one honking huge book, or it split in two? And do readers see Book 1 and Book 2 and get turned off by that?
My first suggestion was going to be that if you're going to curse, you should learn some actual curse words. But then I realized IU has rules and all, so …
It depends.
If we're going to assume that I'm a typical reader, then in the situation you describe, making a duology (or half a quadrilogy, if you prefer), is the way to go. Why? Because my perceived time commitment is going to be half as much. Even if I make the decision to read both books up front and buy the combined set, this still works because it's psychologically easier for me to commit to reading two books of 100,000 words than one 200,000 word book. That way I have a natural break to read something else between books. However, my advice would be to give the books different titles. Maybe something like Start Me Up: Book 1 of The Long Frikken Duology and This is the End: Book 2 of The Long Frikken Duology. You may think of it as one book, but you want readers to view it as two.
All of this assumes that while there is an overall story arc to the duology, that each book has a story arc of its own and you won't leave the reader hanging too much at the end of the first installment. Your comment that each could stand alone leads me to believe this is true.
For the reader who isn't me, this question has some other considerations for you or someone else making a similar decision to ponder.
One is the interaction of perceived value, reader commitment, and reader satisfaction. There is a subset of readers out there who see the trend among indies to write serials as a money grab. Although the money you pocket for eight 99-cent installments of 10,000 words each is about the same as what you'd get for one $3.99 novel of 80,000 words, the reader is paying twice as much. Splitting a book into pieces can go too far. Splitting a single story this many times also means you're almost always ending in a cliffhanger, not some kind of resolution. It's a marketing technique to get readers to buy the next book, but just pee-ohs many of them. However, in this instance you're breaking a Stephen King-sized paperweight into two novels in the normal size range which is a different situation. The advent of eBooks removes some of the logistical and economic requirements related to book length in the physical word, but not all readers are adapting. It's all about reader expectation.
Another consideration is that some readers won't buy the first book in a series until the entire thing is out. In fact, one of the largest volume readers I know is notorious for this. I think it relates to two things. One is that they've been burned, seeing a series they started reading die on the vine leaving the reader hanging along with the characters. The other is that if they finish one volume and are eager enough to see where the story goes next, the follow-up is just one-click away. This also solves the problem of forgetting what happened previously before they read the next installment.
If you have a question you'd like considered for our "What Readers Want" series, drop us a line by using the contact form. Please put "What Readers Want" as the subject line. Cathy and BigAl will choose from the questions submitted for future posts. Please make sure to let us know if you want to remain anonymous. If you're lucky, they'll both answer your question. Maybe they'll even agree with each other.