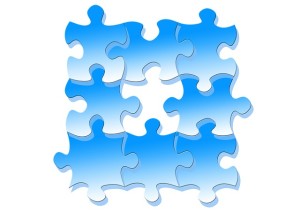 I've been cranky lately. For the second time in several months, I've picked up a book that I have enjoyed and was anxious to get to the climax of, only to find at the very end NO climax and a "to be continued" with an ad to buy the next book in the series. I'm not averse to a continuing story, I'm just not happy to find out that's what I've got after I've read the entire book and was looking for a satisfying resolution. In checking back with the book descriptions, I did not find any clear evidence that these books were only part of the larger story. Yes, they say they're a series; no, they don't say you have to read them all to get the full story.
It got me to thinking that there are actually two types of series books out there. According to Wikipedia, a series will typically share a common setting, story arc and characters, for example in crime fiction, adventure or science fiction (i.e. James Bond novels). Although the books have these things in common, they do not link to each other in a chronological way. Each book can stand alone and has its own story arc that comes full circle by the time the book is done. You might choose to read others in the series, but if you don't, you won't miss out on a larger, overarching story.
A serial, by contrast, is when a single large work is broken up into separate installments and must be read in order and in its entirety to grasp the larger story (like Lord of the Rings). Each book depends on the one(s) before, and reading out of order or reading only a single book will only confuse and frustrate the reader.
The Evil Mastermind wrote about Series vs. Serials here.
I believe it's the author's job to not irritate the reader. I believe it's the author's job to make it very clear what the reader can expect from a book they buy. I've heard from other authors that they've seen similar discussions (and general grumpiness) in some of the forums online. We've even written about it here before on IU – reader response to that author's mislabeled serial was ugly. I would sincerely hope that no authors think it's a good idea to purposely fail to mention that the books are linked and use the cliff-hanger endings to rope readers into buying more books. I'd like to give them the benefit of the doubt, because anything else is just cheating. No one likes a cheat.
Personally, I would love to see some standard practice in use so it would be easy to tell the difference between these two types of series. I'm not exactly sure what that would look like, but I'm certainly open to suggestions so my question to all you readers out there is: what's the best way for an author to communicate to you that the story requires reading more than one book? What tells you the book is not a stand-alone? That's it's an installment? That it's No 1, 2, or 3 in a series? What's the giveaway that the single book you're buying is not the end of the story? And I really hope series authors are paying attention.