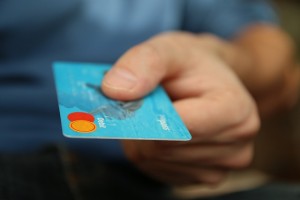 I was at a book festival recently and sat next to a man who had one of those little credit card readers on his smart phone. He said he got it after he'd been at another festival where a potential customer had only credit cards with which to pay, no cash or checks. While I've found that most folks who come to festivals are prepared with cash, some with checks, I realized it would be uncomfortable to have to turn away a customer because I couldn't take their payment. I decided to research the card reader options and thought I'd share.
First off, there are a lot of options out there, more than I expected. At DigitalTrends.com, I discovered there are at least: Intuit QuickBooks GoPayment, Square, PayAnywhere, Paypal Here, Amazon Local Register, and SecureNet Payments readers. At the website, you will find quite a detailed rundown of all of these, including pros and cons and costs. I concentrated on the three most well-known: Square, Paypal, and Amazon.
Distilling what I found in my research, I put my major concerns in a chart to make it easier to compare. (The DigitalTrends article doesn't do that, it just has a page for each device and sometimes that makes it difficult to compare.) Here's what I gleaned about the top three:

Costs per swipe are comparable, but Amazon is the hands-down winner, not a big surprise. Their reader will cost you $10, but you get that back in credit right away. Amazon claims there are no hidden fees, and you'll have next-day deposit. You will have to create a separate Amazon account for the card reader, which could become confusing, but as always, Amazon has support available 24/7. I might be going out on a limb here, but I think that Amazon will continue to do its best to stay the frontrunner, which means lower costs and more options in the future, another reason to either love it or hate as you like.
The Square reader and app are free. One positive aspect is that the Square has the ability to connect with multiple devices, which means you can handle all sorts of transactions across your own network. I found it surprising that they claim one to two business days for deposits to show up. On top of that, I was confused by one site that claims their customer service is only provided via mobile (not even sure what that means), while the Square site says their support is available via either phone, email, or Twitter.
It's probably not a shock that Paypal has jumped into the arena. Their reader and app are also free, and ties into their already-established network. If you get a Paypal debit card, you can access your funds immediately, but otherwise it takes a couple of business days. Another plus for the debit card is that it has one percent cash back, so you get a little more bang for your buck. One unique feature of the Paypal Here app is that it uses GPS to signal customers in your area that you take Paypal if they're searching for that particular option. You can also take payments online through the same app.
From what I've found in my research, it seems that all of these systems set up approximately the same way, and using the card reader and conducting the transactions would entail a slight learning curve but nothing terribly daunting. There are some readers with features that cater to greater or lesser merchant traffic, but otherwise, the devil is in the details and what works for you. The companies themselves, of course, all have glowing descriptions, but the real test is in the day-to-day usage. Since I still haven't made up my mind, perhaps our faithful readers could share their own experiences in the comments. We can all learn from you!