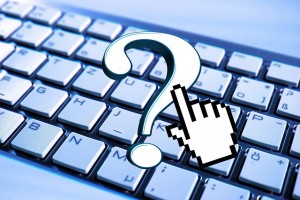 Last week, I talked about writing and planning software for indie authors. But indies wear a lot of hats, so we need more than just a good writing and plotting package. Here's a list of some graphics programs to look at – as well as some other assorted programs that can be useful for indies.
1.  Photoshop – It's the gold standard for photo manipulation and cover design.
Pros: Tons of filters and effects.
Cons: The cost. Plus graphic design programs are written in a language English majors have probably never been taught to speak. There's a serious learning curve. Get a book or take a class. I mean it.
Best for: Any kind of graphics formatting, but especially book covers.
2. GIMP – The poor person's Photoshop.
Pros: It does pretty much everything Photoshop does, except for free.
Cons: If you know Photoshop, you'll have to unlearn it a bit to use GIMP – the tools aren't always called the same thing and they may be in different locations. Also, GIMP is open-source software, which means lots of programmers have their fingers in the pie, and so sometimes stuff doesn't work as advertised.
Best for: Anything Photoshop can do.
3.  Paint Shop Pro – Another alternative to Photoshop.
Pros: Does pretty much the same thing Photoshop does, except cheaper.
Cons: The terminology is less dense.
Best for: Anything Photoshop can do.
4.  Microsoft Paint – Welcome back to the world of 1980s pixelated graphics.
Pros: Free with your PC.
Cons: Too many to list. Don't even try to make a paperback cover in this program – there's no way to convert anything to 300 dpi, which is the standard for dead-tree printing.
Best for: Letting the kids play on the computer.
5.  InDesign – Way more formatting bells and whistles than an indie author is likely to need.
Pros: Great for creating a brochure or a catalog. Allows you to create style sheets, templates, etc.
Cons: Melinda Clayton's in-house experts call InDesign "super-complicated, super-buggy, and super-boring. Word is much easier and if all you're doing is formatting a novel, there's no need to add all the complications InDesign has."
Best for: Brochures, catalogs, and other complex design projects.
6. Microsoft Publisher – I know it says "publisher" right there in the name, but it's not what you're thinking.
Pros: It's great for formatting photo-heavy books. K.S. Brooks uses it for her Mr. Pish books and book covers.
Cons: Do not think you can use this program to publish your novel. MS Publisher is meant to be used for creating newsletters and other desktop publishing projects. It will not do the kind of formatting you need for a novel.
Best for: Your family's holiday letter.
7.  Microsoft Excel – Useful for keeping track of the indie author's business side.
Pros: It's also ubiquitous. And it's great for tracking things like earnings, results from sales campaigns, etc.
Cons: Cost.
Best for: The business side of indie authordom.
8.  Microsoft PowerPoint – The best-known name in presentation software.
Pros: Relatively easy to use. Easy to put graphics exactly where you want them (unlike in Word).
Cons: Cost. Plus its uses are not directly related to publishing. But if you're doing a presentation on how to self-publish, say, PowerPoint is your program of choice.
Best for: Developing presentations for things like how-to-publish classes.
Again, I'm sure I've forgotten several programs. One that comes to mind immediately is Adobe Acrobat, which is another pricey, gold-standard program that has recently gone to a subscription model. And Acrobat is hardly the only program out there for converting a Word file to a PDF. Numerous freeware programs exist on the web, some of which work better than others. I almost think we could do a whole post on that subject alone. What do you think? And again, let me know in the comments if I've forgotten a favorite of yours entirely.