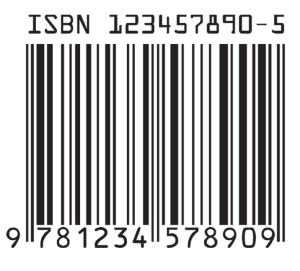 One of the most frequent questions I've heard lately from self-publishing authors is about ISBNs. Do you really need them? Do you really need to buy them? What are the pros and cons of buying an ISBN versus using the free or inexpensive ones offered by CreateSpace, BookBaby, Smashwords, and other online partners? Let's see if we can clear that up some.
.
First, a little background
ISBN stands for "International Standard Book Number." Early iterations began in the 1960s as a system for booksellers to better organize and track their inventory. Books published before 2007 have ten digits in their ISBNs. Books published after January 1, 2007 have thirteen digits. The method of assigning numbers varies from country to country. Generally, each version of your book (eBook, paperback, hardcover, audio book) gets a unique ISBN. Many countries charge for the privilege, but you lucky Canadians get yours for free. As for different eBook versions, if your e-file type comes with its own proprietary DRM software, you will need an ISBN for the mobi, the epub, and the printable PDF. But that's something most indie authors don't have to deal with.
So why buy ISBNs if you don't have to?
In some cases, you don't have to. If all you plan to do is print a few books to give away to family and friends or sell directly to them, you don't need an ISBN at all. You will need one if you want to sell your book through a bookstore, an online retailer, or through one of the online retailer's distribution partners.
But there is no requirement to purchase an ISBN if you will be self-publishing an eBook on Amazon or Smashwords, or if you publish a print version on CreateSpace. The people who tell you that you HAVE TO BUY ONE no matter what are usually in the business of selling ISBNs.
When you publish an eBook on Amazon, they will assign (for free) what they call an "ASIN" (Amazon Standard Identification Number, for those of you at home keeping score), which is easy shorthand for Amazon to keep track of versions of your eBook sold in different regions. Smashwords will assign your eBook a free ISBN if you ask for one. So will CreateSpace, if you use them to publish your print book. Other book publishing services (like Lulu or BookBaby) let you purchase an ISBN from them at a discount.
But there are some caveats. (You knew there would be, right?)
1.      If you opt for a free ISBN from CreateSpace, online vendors of your print book will list "CreateSpace" as the publishing imprint. If you purchase an ISBN through companies like Lulu and BookBaby when you publish with them, likewise, these companies will be named as your publisher. Some authors don't want that. Some think it makes them look too much like a self-published author, and for whatever reason, they don't want to give the public that impression. Or it's the other way around. They want to OWN the process, and proudly be called "Raging Fruit Fly Press" or "Weaponized Eye Candy Books" or whatever personal imprint they'd like to publish under. That's fine. You can do that through CreateSpace or IngramSpark by purchasing your own ISBNs and entering them when you upload the rest of your metadata when you publish. Lynne Cantwell wrote a nice overview of print book publishers if you want to know more.
2.      If you accept a free ISBN from CreateSpace or buy one from another publisher, it can't be transferred. So, if you'd like to then take that paperback and publish it under your own imprint or with another company, you'll have to buy another ISBN. Having your own ISBN from the start gives you portability, should you see a future need for that, as long as you have a separate number for each format.
3.      In general (and this comes directly from CreateSpace's website forum), bookstores are less likely to stock books published by CreateSpace, even if you've opted for expanded distribution. Yes, readers can walk into their local stores and order your books, but there's no guarantee that the owners will stock you.
I asked my friendly neighborhood indie bookstore owners if it matters to them where the ISBNs come from, and I got a mixed response. One said that as long as the books they agree to stock have an ISBN and a bar code, they don't much care where the publisher bought them. One was a little more vocal on the matter. She told me that she would only stock books from wholesale distributors like Ingram or IngramSpark (a division of Ingram that works with self-published authors). She gets a better discount and, more frequently, the option to return books that don't sell. CreateSpace's distribution partners don't guarantee her a discount or a return policy, making these books a less-attractive shelf prospect unless they see that you have good sales.
But like anything, your actual mileage may vary.