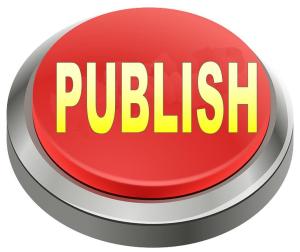 For the past two weeks, I've been writing about choices for indies who want to publish their work as an eBook. But nothing beats the rush of holding in your hot little hand an actual, physical, dead-tree book with your name on the cover. Particularly if you're planning to do book signings or any other type of personal appearance, a paperback edition of your book is essential.
Authors who want to create a paperback edition have several publishing options. But first and foremost: DO NOT DO BUSINESS WITH A VANITY PUBLISHER. Here at Indies Unlimited, we have had our fill of stories about these vultures, which sometimes also call themselves hybrid publishers. They prey on newbie authors with their slick websites. They say they will take you under their wing and do everything you don't know how to do, from editing your book to promoting it. It sounds terrific. But their editing work is often substandard, their promotional efforts are slim to nonexistent, and their contracts are extremely difficult to get out of. And they will charge you hundreds, thousands, or even tens of thousands of dollars for the privilege of doing this to you. The saddest part is that in today's publishing climate, you can do everything yourself, for free or cheap. I don't know about you, but free and cheap are my two favorite prices. This article will show you how to spot a scam.
The following three print-on-demand services are the ONLY ones we can recommend. And even then, there's a caveat.
CreateSpace is Amazon's self-publishing platform for music, videos, and paperback books. They will provide you with a free ISBN (although you can bring your own, if you like), and will publish your book for you for free. You can format your manuscript yourself in Word, if you enjoy tearing your hair out as much as I do, or you can download their free layout template and load your book into it. You will also need to provide cover images, both front and back (for some reason, I always forget to design a back cover until I'm uploading the book), but they have free templates for making this task easier, too. They also offer fee-based assistance with some of these tasks.
CreateSpace automatically makes your book available for purchase at Amazon. It used to be that you had to pay extra for "expanded distribution" to other retailers, but they waived that a couple of years ago, so go ahead and tick those boxes and have them send your book everywhere. Note that this doesn't mean your local bookstore will stock your book for sure – it simply makes it easier for brick-and-mortar retailers and libraries to order it.
Lulu has been around longer than CreateSpace. The publishing process there is very similar to the one at CreateSpace, but I thought their instructions were a little more technical and perhaps not as newbie-friendly. They too will give you a free ISBN. And they too will provide assistance with some publishing tasks for a fee – but here's the caveat: Lulu has a deal with vanity publisher Author Solutions to provide these services. Remember what I said above about not doing business with a vanity publisher? Just be careful here.
Lulu will distribute your book to Amazon, but it takes longer for Amazon to list Lulu-published books. Lulu also distributes its books to other retailers.
In addition to paperbacks, Lulu also publishes hardbacks on demand. I have never tried this service, so I can't speak to how well it works.
IngramSpark is the newest entrant in our print-on-demand provider list, but it has a lengthy pedigree. It's owned by the same company that owns LightningSource, one of the first print-on-demand outfits. (We used LightningSource in 2003 to print the nonfiction book I co-authored.) In fact, Ingram set up IngramSpark in order to cater to indies, as LightningSource is really geared toward publishers. IngramSpark does not provide free ISBNs.
IngramSpark has the most robust distribution chain of any of the three POD services, as its parent company is the largest book wholesaler in the world.
All three of these companies would be happy to convert your print book file to an eBook, but I don't recommend it. I've heard from indies who ended up with wonky formatting in their eBooks when they had CreateSpace send it to KDP for them. Paperback formatting is just too different from eBook formatting. You're better off setting up your own KDP account and creating your eBook edition separately.
Authors today are spoiled for choice when it comes to publishing options. Choose wisely – and good luck!