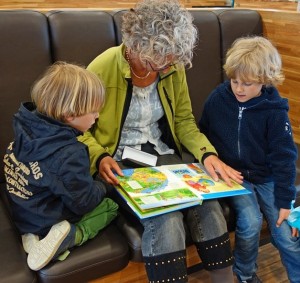 The jury is far from in on this but there is a growing body of evidence indicating that spending too much time with electronic devices in the formative years can, quite literally, interfere with brain development in some areas. The theory is controversial but from what I know of child development, there may be some truth in it. We will not know the final verdict until the current generation becomes adults. These articles from The New York Times, Psychology Today, and Science Daily, explain a bit about it.
The term "digital dementia" was coined by South Korean researchers when doctors reported seeing young patients with memory and cognitive problems, conditions more commonly linked to brain injuries. Others noted issues including aggression, moodiness, restlessness, strange cravings, emotional control and relationships.
Just as with all animals, there are certain key windows, coming at predictable stages in growth, when children are most likely to pick up particular skill sets. If these skills are not learned during these crucial windows, the person will struggle with them for the rest of their lives. A case in point: it is common knowledge that those who did not learn to read until adulthood have great difficulty with it.
It is held that the first five years of learning in children are largely kinetically stimulated. That is to say that brain development happens primarily in concert with movement of the body. This applies not only to learning how the body works, but also to other areas of development, including bonding, spacial skills, and even language. Watch infants and young children. If left to their own devices they are in constant motion … unless they are interacting with an electronic device.
I cringe when I see phones, tablets, hand held games and TVs used to keep young children occupied. I see infants no more than a few months old being given so-called educational games on screen. Sometimes parents do this to keep the child passive so they can go about their own activities. Others believe they are helping their child's learning because of the hype that these programs are educational.
Let me be clear. Such devices are not evil, in and of themselves. It is the amount of time spent with them in lieu of physical activities or human interaction that creates the problem. I have been in homes, in restaurants and in many public places where I see kids using devices for long periods, completely absorbed, while parents ignore them.
In recent years it has become increasingly possible for kids to have stories read to them via a device. Interactive games "talk" to them and require specific responses. There is no space for creativity or the give and take of "real" human interaction.
When I read a story with my grandson, it becomes a spontaneous interaction where we can stop and talk about what we see, point at the pictures and discuss them, share our reactions, can touch each other physically – in other words, we bond. This is not possible with an electronic device. Those times of closeness are so crucial to both emotional and relationship development. Now we are learning that they also impact the development of the brain in many more ways.
The studies I read suggest that screen time (of any kind) should be withheld until age two and restricted to less than two hours thereafter until age ten. Others go even further.
But for me, the bottom line is – read WITH your kids. Have them on your lap or sitting next to you. Let them interrupt to talk about the story. Don't let devices take over this wonderful intimate activity. It will benefit their brains and your relationship. When they grow up they'll thank you for it. And they may be smarter and more balanced, too.