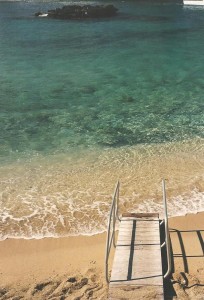 Donovan basked lazily in the hammock as the gentle Caribbean breeze caressed him. Alone on this tiny out-of-the-way island, he could at last live the simple life.
Here, he could just let time wash over him. He ate fresh fish and crab and fruit. He didn't have to worry about shooting anyone or being shot at. He didn't have to cope with any plans cooked up by idiot desk jockeys back in Washington. Most of all, he didn't have to think about her.
He frowned as he rubbed at the ropy scar on his left shoulder. The aching in the old wound always seemed to portend trouble.
His brow furrowed as he heard a familiar low thrumming. Of course. He looked out over the water to see an all-too-familiar little black dot in the sky.
As the whir of the helicopter grew louder and unmistakable, Donovan swung from the hammock and walked back to his hut…
---
Welcome to the Indies Unlimited Flash Fiction Challenge. In 250 words or less, write a story incorporating the elements in the picture and the written prompt above. Do not include the prompt in your entry. The 250 word limit will be strictly enforced.
Please keep language and subject matter to a PG-13 level.
Use the comment section below to submit your entry. Entries will be accepted until Tuesday at 5:00 PM Pacific Time. No political or religious entries, please. Need help getting started? Read this article on how to write flash fiction.
On Wednesday afternoon, we will open voting to the public with an online poll so they may choose the winner. Voting will be open until 5:00 PM Thursday. On Saturday morning, the winner will be recognized as we post the winning entry along with the picture as a feature.
Once a month, the admins will announce the Editors' Choice winners. Those stories will be featured in an anthology like this one. Best of luck to you all in your writing!
Entries only in the comment section. Other comments will be deleted. See HERE for additional information and terms. Please note the rule changes for 2016.