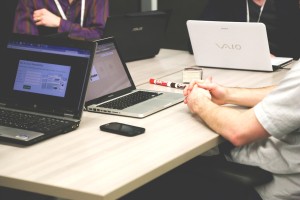 In real estate, they say it's all about location, location, location. But, does the same hold true for writing? Not in terms of the state or country you live in, but in terms of whether your write alone or in proximity to other writers.
While we generally all have writer buddies from whom we ask for advice or critiques, do we have buddies we actually sit and write with? I mention this because my local writers group started a weekly "write-in." During that time, group members meet at a public library and write together. No, not on the same project, just in the same vicinity as each other. Write-ins are fairly common during National Novel Writing Month.
When I first heard the idea of a write-in, I was a little dubious. I mean, going to write somewhere seemed like I was just losing time. I mean, commuting to the location was time that could have been spent writing, right? However, I also don't see my writing buddies often enough and thought the camaraderie would be good, so I'd give it a try. I'm glad I did, because I found that I really like the write-ins and tend to be very productive there.
So, I thought I'd elucidate some of the benefits that occur when you go write with your author brethren.
You've got a definitive, overriding purpose. You've just left your nice comfy home to go somewhere else to write. You got dressed, perhaps combed your hair, maybe showered or brushed your teeth, and pretty much made yourself presentable so you could get to the write-in. Now that you're there, you're going to write.
Peer pressure. Despite what after-school specials from the 80s would have you believe, peer pressure isn't necessarily a bad thing. As you sit around the table with your peers nearby, all typing, clacking furiously on the keys, you can't just sit there and surf the Internet. You have to type. You have to do something. You can't watch the latest Facebook video or everyone will know. You've got pressure to actually get something accomplished. Do you want to be the only one who only managed a couple of paragraphs at the end of the session?
A plan. While you can have a plan at any location, I've found that the drive over to the library serves as a moment to think about what it is I'm going to write during the session. It gives me a chance to organize my ideas and get in a good frame of mind for writing.
The social aspect. Even though we're writing during the session, usually we wrap up with a little chatter at the end. What is everyone working on? Has anyone noticed a new trends from their own book sales? If someone heard a useful piece of advice they'll often share it. It's a nice time to wrap things up and get a little writer connection time.
Now, a write-in isn't the only time you should be writing, but I think it's a great time to get some intensive writing done and have a little camaraderie afterwards (well, as much camaraderie is allowed in the venue; we have more fun when we pick a coffee shop). However, getting that once-a-week dedicated time can spur you to be productive later on in the week. You did it once, so it means you can do it again.
So, how about you? Is a write-in your style or not?