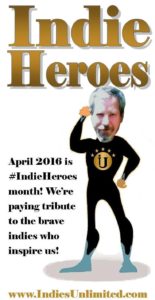 Indie heroes come in all shapes and sizes; some are authors and editors, and some are book reviewers. This particular book reviewer is an inspiration to many, and has become a a much appreciated fixture here at Indies Unlimited. Of course, we are talking about BigAl, avid Indie supporter and the head honcho over at BigAl's Books & Pals and The IndieView.
Since BigAl hasn't been around much lately, the minions and I decided to launch a sneak attack from around the gruel pot. Below, each of them has provided a little tidbit as to why BigAl is their #IndieHero. Here's why:
BigAl is thoughtful and kind, always considering all sides, maintaining a voice of reason even while shining a light on faulty arguments and false precepts. He has a keen insight, and I treasure his feedback on all my writing. – Melissa Bowersock
He was one of the first and one of the few to offer indie writers a "safe space" on Amazon discussion threads. While other posters were chasing indie authors off with pitchforks (deservedly so, in some cases), Al was inviting them in and offering support. – Melinda Clayton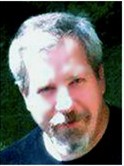 When I first published in 2012, I ran a giveaway on my blog for two signed paperbacks. I did my random drawing, and one of the winners was Al Kunz. I did not make the connection with Big Al's Books and Pals, and sent the book off. Several months later, I was thrilled when I opened my daily Books and Pals email and saw my own book reviewed. I was also relieved it was a kind review. That was the first moment I felt like a legit author – seeing my book reviewed on Big Al's Books and Pals. – Shawn Inmon
He makes me laugh. And anyone with a sense of humor is a good person to hang with. Of course, Al runs a topnotch site which really does a lot to promote indie books. It reviews a ton of books and gives a ton of exposures to indies who are all looking to make at least a little splash in a big pond. And he's totally a splashmaker. – RJ Crayton
Al believes in and is a protector of "community". That's very important as our industry continues to grow. I admire that. RESPECT Al! – Martin Crosbie
If you want to be a famous author, sell millions of books. If you want to be influential in the writing community, give. Of yourself, of your time, of your love of writing. Big Al is at the top of the heap in that area (And I bet he didn't do it because he wanted to "be influential." That just happens when you are.) – Gordon Long
BigAl is my hero because he took me in under his wing and taught me how to improve my reviews. I had started writing reviews for the Indie books as a thank you for all the authors who were giving away free books on the Amazon Kindle Forum years ago. I had no idea what I was doing, and I am sure you can find a review or two that only said, "Great book!" I first met Al when I stumbled into a bar on an island beach oasis in the Amazon Kindle Forum's called Al's Place. I think it was in 2011. I lurked for quite a while before gathering up the nerve to actually post there. Not only was I a newbie to Kindle, I was a newbie to online forums. After a long while BigAl managed to seduce me with his charm and spicy wit to join him at Books and Pals as a reviewer. I am sure he would tell you, after a huge guffaw, I fell into his trap. He has had the patience of a saint honing my reviews to his high standards. Challenging me to improve my style and to be more articulate about what I liked and why in the books I chose to read, all while learning to speak Wazi. When he first started asking me to do doubleshot reviews with him I was paralyzed with fear! How could my review possibly hold-up alongside one from BigAl? He is a master at reviewing and I am still learning. I am a little more confident now, but I will always be just learning when compared to BigAl. – Guest Minion, ?wazithinkin
I was brand-new to self-publishing in 2012, shaky about how to promote Drawing Breath, but I kept hearing the same thing in Facebook groups: submit to Big Al's Books and Pals for a review, because he's the dude. I didn't know Al that well at the time, but I knew the reputation of the site in the community. So I submitted. Freaked out a little, but I submitted. It was reviewed, so I could breathe again, but then I started stalking…um, I mean following his comments and blog posts. He's savvy about the market, passionate about books, and knows his onions, as my grandmother used to say. Eventually, I needed beta readers for the next novel. I was floored when Al agreed to read my manuscript, and his comments were so helpful (and funny). He is awesome like that. He's built something pretty tremendous for readers and indie authors. Plus, what Lynne said – he's hilarious. – Laurie Boris
I was nervous when I submitted Seized to BigAl, even though I knew him from IU already. I'd read the submission guidelines on his site, and wanted to make sure I didn't break any rules. He couldn't have been easier to deal with, of course, because he's awesome like that. I was so thrilled to get a great review (thanks, ?wazithinkin, whoever you are) and a Reader's Choice Award nomination (even if he did put my book up against Wool…). Plus he's hilarious. – Lynne Cantwell
I first "met" BigAl several years ago in a private Facebook group that has nothing to do with books or writing or publishing, etc. He just used his name on there instead of "BigAl." I had no idea who he was, and at that time, if someone had told me he was BigAl of BigAl's Books and Pals, I still wouldn't have known. I was very new to the whole author thing. Anyway, I posed a question to the group about how to handle an issue with my book that was relevant to the group's subject matter (sorry for being vague, but I did say it's a private group!) In the discussion, Al mentioned that he was a book reviewer and he gave me the link for how to submit a book for review if I was interested. Well heck yeah, I was! So after my book was vetted, BigAl chose it for a double-header review! I was and continue to be so grateful for that because it was my first ever book review! Later on he did a radio interview about my book, too. He also nominated my book for his annual Readers Choice Award! Still later, he recommended me to another group, which just knocked my socks off. On top of all that, he's become a very helpful friend when I have newbie questions which, no matter how dumb they are, he generously answers anyway with patience and kindness. That's just who he is! – Candace Williams
I have learned so much – both about writing and about reviews, reviewing and self-publishing from Big Al. He passed on my review requests promptly (which I was initially so nervous about submitting)and they were read and reviewed in short order even though I thought I might have to wait for some time. That first review from "a respected site" was a high for me. And the reviews on his site have led me to a few great reads. – Yvonne Hertzberger
BigAl is smart, witty, funny, and has a great business sense. He's got a lot of patience and a big heart. Running Books & Pals is a lot of work and yet he makes it look easy. He gives indie authors a reputable place to get their books reviewed. Whenever I have a question about how to handle something to do with IU, or one of my own books, I turn to Al. I know he will give me an honest answer, and if I'm taking myself too seriously, I'll receive a dose of snark to snap me out of it. I also count on Al to tell me if something is up in industry news that I've managed to miss. I don't know how he has the time to do it, but he seems to be omnipresent, keeping up with publishing trends on the top sites, all while working full-time. Al is a pleasure to have around the gruel kettle and I am lucky to be able to call him my friend. – K. S. Brooks
My introduction to BigAl was in the halcyon days of the infamous Greek Seaman incident. All the trainwreck-style entertainment was provided by the fevered rantings of an author who did not appreciate the rating her book garnered from Al's review. What struck me most was the mature and reasoned tone Al took through the whole affair. I then interviewed him for a series of articles I wrote on what reviewers want from authors. He proved himself to be accessible and helpful. One day while we were hanging out on my yacht, I asked him, "Do you think this rag smells like chloroform?" Long story short, he became another star in the Indies Unlimited cavalcade of awesomeness. We are sure proud to have him with us. It gives the joint a little class. – Stephen Hise
Got a story about BigAl? Share it in comments below. Thanks for being our #IndieHero, Al.