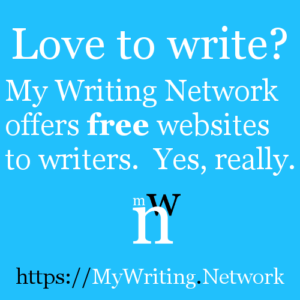 So, you're a writer. Me, too! And if you're anything like me, that probably means you want to get your words out there in front of as many people as possible.
These days, that means having an online presence.
You'd love your own website, but the idea feels overwhelming… and you're worried it might turn out to be expensive, with hidden fees dinging you when you least expect it. In fact, just thinking about it makes you anxious, and so you put the idea aside yet again… even though you know you might be missing out.
How does a free website sound? No strings, no hidden fees, no credit card info required?
I'm William Kowalski, a best-selling novelist and a web designer, and I built My Writing Network (MWN) for you. This is not a sales pitch — it's a gift. You can have your own website on My Writing Network, completely free. No catch. No hidden fees. And on top of that, your MWN membership includes admission into our small but growing community of writers, with private forums, a secret Facebook group, and a network blog feed.
This means that not only are you getting your own website, you're also getting the support of a community of like-minded people with one common goal: to help each other promote their work online.
What can you do with your MWN website? Anything you like, including:
Publish blog posts, poems, or short stories
Serialize chapters of longer works
Connect with your readership
Build a mailing list
Sell books, products, courses, or videos as digital downloads
Link to your Amazon book pages
… and many, many other things!
Not an internet guru? Doesn't matter. If you can:
Send and receive email
Surf the internet
Use a word processor (like Word or Pages)
…then you already possess all the technical skills you need to master your own MWN website. You just need to repurpose them a little bit. Your site comes with a suite of instructional videos that will teach you everything else you need to know, and we have excellent technical support available as well.
Paid upgrade packages are available, but they are completely optional. You don't need to spend a dime.
Here's the bottom line: You can have a fully functional website up and running in as little as one minute, at no cost.
So how do you sign up for My Writing Network? Just visit https://mywriting.network. All you need is a valid email address. No other personal information is required.
If it sounds too good to be true… it isn't!
So why am I doing this? I've had a lot of help from others throughout my career, and I wouldn't be where I am without it. This is my way of giving back. I built My Writing Network because I saw how many hopeful authors were struggling with technical issues that previous generations of writers simply didn't have to deal with.
The publishing gatekeepers are history, but new challenges have risen in their place. We all need help. Working together, we can do anything. That's what My Writing Network is all about!
Check out My Writing Network at: https://mywriting.network
William Kowalski
---
Indies Unlimited does not endorse or support any specific providers of products or services.