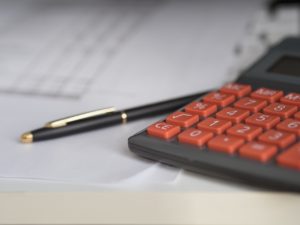 For those new to Kindle publishing, questions often arise about the Kindle delivery cost. Some people aren't sure what it is, who it affects, and if there's a way to make it go away. Today, I'm going to give a quick overview of the fee and what it means to authors.
What is the fee? It's the amount of money Amazon charges you to deliver a book to customers. The amount is determined by the size of your book and is based on a dollar per megabyte rate. You can find the exact rates here. However, I'll offer up the rates for the four largest English-speaking markets. The US, Australia, and Canada are $0.15/MB in their countries' respective currency; and the UK is £0.10/MB.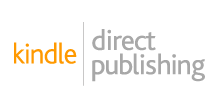 Will the fee be expensive? That depends on the kind of book you've got. Most books that are primarily text will come in under a megabyte. However, once you start adding images to your books, you will really increase the file size and start incurring a large delivery fee. So, if you're selling a photo book, a cookbook, a comic, a children's picture book, or anything that's image heavy, you could end up with a large delivery fee.
How do I find my file size? Good question. If you upload a mobi file (the file format Amazon delivers books in), the size of it shouldn't change. However, Amazon also accepts Microsoft Word and HTML files that it will convert to mobi. To see the size of your converted document, in your KDP Bookshelf, go to the book whose size you want to know. Click on Edit Rights, Royalty and Pricing. Once you're on that screen, scroll past all the pricing info by country and you'll see "Your book file size after conversion is XX MB." That's the file size Amazon has assigned to your book.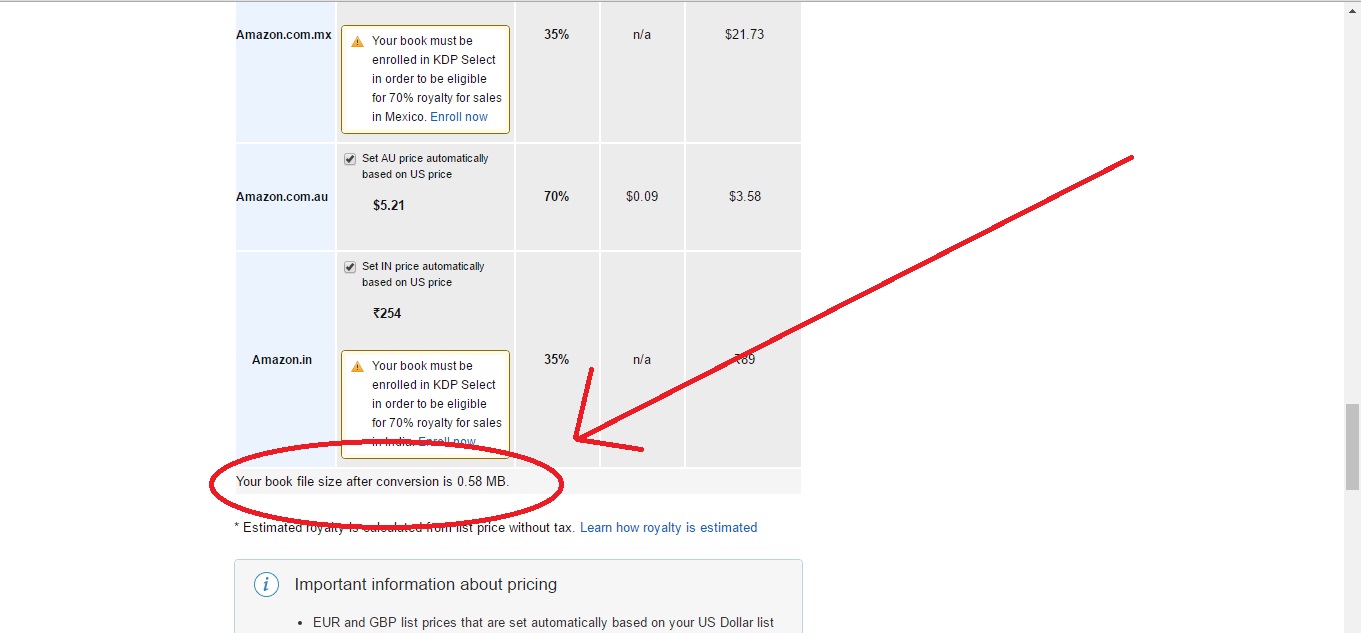 How does the fee affect you? Well, the obvious way is that you are paying the fee for each book delivered to a customer. So, if a book is 10MB, for the US, you would owe a $1.50 delivery fee for every book you sold. That means you can't sell your book for 99 cents, because that won't cover the delivery fee. (Amazon will let you know what your minimum retail price has to be, depending on if you go with the 30% or 70% commission.) So, if your book's file size is much larger than your competitors, then your book will have to be priced higher in order to cover that delivery cost. That means you could lose business because your book isn't competitively priced. Or you would earn less in order to price your book competitively. So, taking the 10MB example, how might you be affected if most books in your category are priced at $3.99? Well, at $3.99, if you opt for the 70 percent earnings option, your earnings are $2.79 before delivery costs. If you pay the delivery fee for a 10MB file, you're only earning $1.29 per book, whereas your 1MB competitors are earning $2.64 per book. So, they'd be earning twice as much as you, by simply keeping their size down. If you wanted to earn as much as your competitors, you'd have to raise your book price to $5.92, almost two dollars more than your competitors.
So, what is an author to do? Well, first and foremost, try to avoid inflating the file size. Make your images smaller using software that allows you to shrink the byte size without degrading the image quality too much. In my Also By This Author section, I use thumbnail photos of my book covers to go with the descriptions. This does affect my delivery charge, but I'm OK with that because I resize the images to thumbnails (about 60KB each; there are 1,000 KB in 1MB) before inserting them into the document. However, if I were to use the full-size cover images (about 4MB each) and simply set it to appear thumbnail size inside the document, my file would be much larger. So, if the image quality isn't crucial, resize your image to be smaller (IU has 3 tutorials here). I use Paint to resize my jpg files. You can also use Gimp (free software) or Adobe Photoshop to resize images. Amazon offers very light tips on reducing file size here. While kind of them to offer some advice, these tips don't get into the nitty gritty of how to keep your file sizes small. I am not an expert on file size, but I did find these two blog posts that offer file size reduction advice: Creative Indie and BB eBooks. Obviously, if you're paying someone to format your eBook and they give you a huge file, ask them to try to cut the size down a bit.
Is there a way to avoid the fee? Not if you earn money on your books. All books where you earn money incur the fee. Books that are free (either through KDP Select free days or price matching) do not incur delivery fees while they are free.