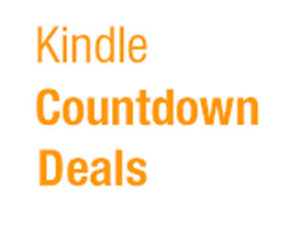 So what's the deal on the Kindle Countdown Deal? You may have heard of it, but let's break it down to the nuts and bolts and see how it works. The Countdown Deal (CD) is an additional promotional tool Amazon offers to those authors who have their books in KDP Select (KDPS). It allows authors to create a gradually diminishing discount of their books over a four day period with the idea being to inject a bit of urgency and excitement into sales.
Here's an example. If your book is normally $4.99 on Kindle, you can set up a Countdown Deal to work like this:
Day 1: The regular price of your book is discounted to $1.99 for 24 hours
Day 2: The promotional price increases to $2.99 for 24 hours
Day 3: The promotional price increases to $3.99 for 24 hours
Day 4:  The price returns to its original retail price of $4.99
To make it crystal clear to readers, your book's Amazon page will show a counter announcing the sale, giving the current price at that moment, showing the time remaining until the book's price goes up to the next increment, and what that next price will be. Readers will still see the regular price, as well, so they'll know how much they're saving, or could save if they act fast.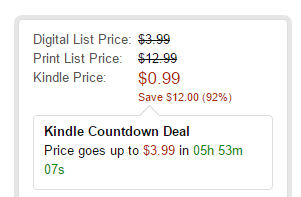 This countdown information appears on the right-hand side of your book's page, just above the buy buttons.
The good news for authors is that if your book is set at the 70% royalty rate, you will continue to earn that rate, even when the book is discounted to 99 cents. Normally if you discount your book manually, you must set the royalty rate to 35%. As an aside, if your book incurs a delivery cost, that will apply as normal.
And there's more good news. Amazon also has a dedicated website for Kindle Countdown Deals exclusively, so readers can browse for discounted books to their heart's content. Having your title appear on a dedicated Amazon promotional page is never a bad thing. Most of us have seen the rise and fall of numerous discount book services that tweet out or email daily, weekly, monthly sales, yet those services very often lose their appeal or disappear entirely after a few months. You can bet your bippy that Amazon is not going to do that.
And finally, you can monitor all the activity and results of your CD on your KDP sales report page. Sales and royalties at each increment of the CD price will be displayed side by side with the book's performance at the regular price, so you will be able to clearly see how much effect the sale is having.
So how do you start? Go to your dashboard on your KDP page and click on the button on the right side where it says Promote and advertise.

You'll be taken to a page where you can choose to create either a promotion (like the Countdown Deal) or an ad campaign. Make sure the radio button is set for the Kindle Countdown Deal and click on the Create button.

The next page that comes up will be the one where you set your promotional price, the days you want your promotion to run, and the number of increments between the lowest sale price and the regular price. It's all pretty painless. Just make certain that you run your Amazon.com and Amazon UK deals if you are interested in doing both at the same time. Unfortunately, Countdowns are not available in other countries at this time, and your eBook will be at the regular price in those stores. Next time you're planning on running a promo on one of your books, you might consider the Countdown Deal. It's just one more tool in the kit bag of Kindle Select.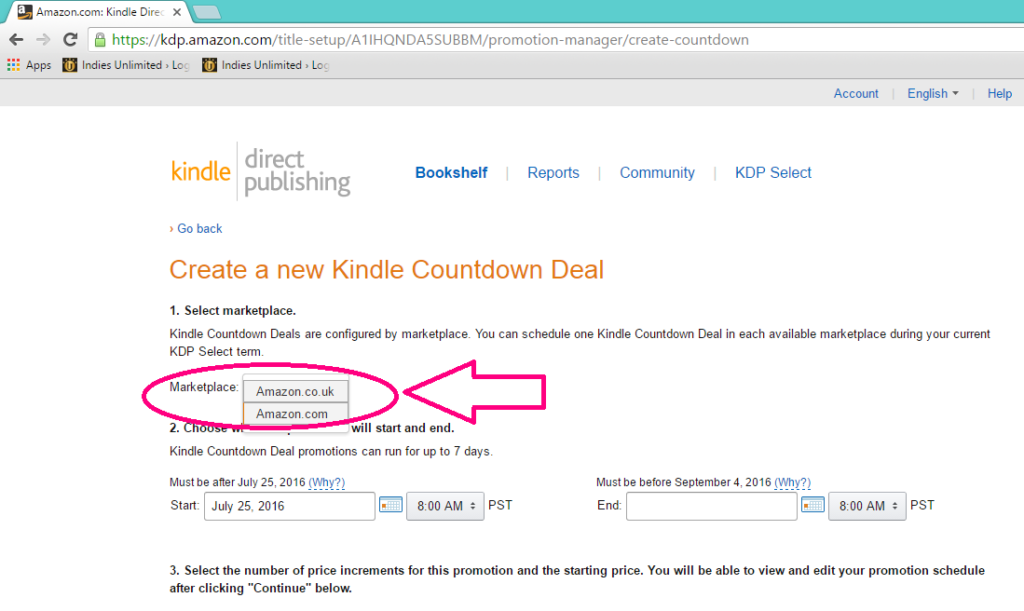 Do the Countdown Deals work? Most of the authors I've spoken to really haven't had much success with them. What has your experience been?