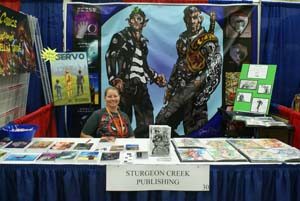 Sometimes, despite the best planning and execution, stuff doesn't go right. As an indie author, you should always keep this in mind. It's especially true when doing book events. In March, I attended a large local comic con. Deciding that wasn't enough punishment (we minions are hard-headed!), I signed up for one in Louisville, the Derby City Comic Con, which is three hours from my home.
Comic Cons are a longshot for authors because most folks are there to see celebrities and get comics. Not many are looking for their next great novel. But it's a good venue to meet and greet thousands of people and hopefully get your name out there. Despite the March con being financially painful, I thought I'd take lessons learned and see if I could shave $$s off this one. The price for the booth was $100 less than Lexington, which made me happy. I already had bookmarks, business cards, a banner, and a good stock of books. My illustrator invited me to crash on his sofa (he lives in Lexington and Louisville is roughly 1hr 20min away), so I'd be driving more, but not having to pay for a pricey hotel. And I'd stocked up on munchies so I didn't have to buy expensive concession foods. I thought all was going to be good.
That was until Murphy's Law interrupted. My illustrator, who was supposed to be in the booth with me, got called away and ended up in Colorado! At least he let me stay at his house. So I mustered my strength and put on my big girl pants and prepared to do the whole thing myself. Being an indie author (and independent person), I made sure I had maps to back up the GPS, and the car loaded and ready to go Friday afternoon. I drove up and stayed at his house, and the next morning at 5 a.m., I was on the road to Louisville to get set up and prepare to meet the masses.
Except there were no masses. The huge crowds of people I'd seen at Lexington weren't at Louisville. The venue was large — probably a football field plus in size, there were more than 100 vendors, and they even had concessions right in the hall. The old saying "if you build it, they will come," didn't ring true.
Working with my illustrator over the last couple of months, we'd taken a story line from one of my book series and turned it into a nice eight page intro comic. Plans were to debut the comic at Louisville, which we did. Saturday started out slow at 9 a.m., picked up some midday, and died about 3 p.m. even though the show went until 6 p.m. It ended up being a really long day. I sold five copies of the comic ($1 ea.) and one novel. That made my total for the day, $23. I wasn't happy, but I also handed out business cards and bookmarks, hoping they'd result in after-show sales. Even the six sketch books my illustrator sent along containing original artwork failed to draw sales.
Sunday was even more dismal. I didn't sell a single thing. I spent time talking to lots of people about the comic, my books, and the artwork. As I was breaking down my booth at the end of the day, I talked to other vendors, and most had lackluster sales. So at least I wasn't the only one. Comic Cons are unpredictable. You never know if the show will pay off or not. By the time I got done, I'd spent $24 in gas, $20 in parking fees, $60 in printing the comic, and $150 for the booth. So I count that as a business loss for the event.
However, we're not done yet. Plans are to regroup over the coming year and make a bigger and better showing at the Lexington venue next year. Since I was bored Sunday, I started penning a new novel I hope to release then, which from previous experience, generated many sales. We're also planning on cleaning out closets to find action figures and other goodies to sell in hopes of drawing people to the booth. I think a big part of being successful at a venue like that is flexibility to adapt and change to suit the environment.
Attending a comic con as a vendor is definitely a gamble. Some shows are a hit, some are misses. Try and approach each event as if it will be your best. It may not, but don't let that discourage you from getting out there and being seen.