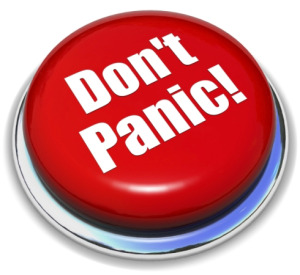 A couple of major and somewhat jarring events took place in our self-publishing community recently. An author had her books banned because Amazon detected a one day increase of her page-views from a couple of hundred to 25,000. They're investigating the situation, but the author's books have been withdrawn for sale and her agreement with KDP has been terminated.
In other news, Pixel of Ink, one of the major eBook promotion sites, shut its virtual doors. Many of the promotion sites we use have been in contravention of Amazon's terms of service for some time. Amazon is now taking measures to make them comply or they'll cease doing affiliate business with them.
Tons of bandwidth has been devoted to discussing these two topics. Authors, readers, and promoters all have opinions. I've put together a list of things you should be doing to deal with these situations.
Keep Writing.
You know what? It doesn't matter. At the end of the day nothing matters except the work. As self-publishers, we have to be aware of what's happening in the publishing world but we can't let it hold us back, and we should never let it detract from our primary purpose –producing great content for our readers. Keep your ears to the ground but instead of following and liking and tweeting every bit of information, look for commentators that summarize what's happening and then get back to creating your masterpiece.
Examine Your Network or Support Group.
Are you all on the same page or is it time to spend less time lamenting with other authors and more time with those who are on the same page as you are? I've been criticized and labeled as a drive-by commenter. There's some truth in that. I write slowly. I don't produce books as quickly as some other authors. So, if I have an opinion that I want to express I'm going to drop by, let you know what I think, and unless there is something epiphanous conveyed in the comment thread that follows, I'm probably out of there. I need to keep writing. If there are other authors in your immediate group who are burning your time up by regurgitating the same Amazophobias over and over again and not looking for solutions, perhaps it's time to break up with them.
Continue Building your Audience.
Our personal mailing list of readers is extremely important. We don't know who purchased our books. We're not given that information, but by engaging in social media, blogging, attending local writing events, and helping other authors, we can add subscribers to our mailing list. Schedule time for this task so that it's not infringing on your writing time. If we have our own list of readers (customers) that we nurture and grow, then the world can turn any way it likes. We'll always have access to readers who will check out our work.
We have a responsibility to ourselves to take the best shot we can at building and maintaining a career as a writer, and we have a responsibility to our readers to produce great content. Don't let yourself or your readers down. Don't worry. It's still a great time to be a writer. Your audience is closer than it's been since the days of sitting around the campfire listening to the elders tell stories. It just might be time to make some tough decisions. Remember, if you draw yourself away from the crowd you're more likely to be noticed. Good luck!