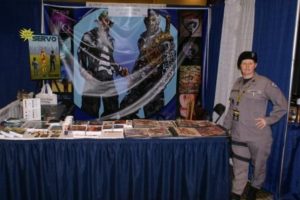 A couple of months ago I wrote about becoming a vendor at a local comic con. Now that all is said and done, I'm ready to tell you how much it cost, and what I gained from it. For a first time experience, I can't exactly say what the gold standard is, but I can share my experiences as an author in a widely commercial setting.
Okay, let's crunch some numbers. I have to admit, it was a good case of sticker shock. For an Indie author, going to an event such as this is a leap of faith. And I was crazy enough to take that leap. These totals are for the three-day Lexington Comic and Toy Convention (Kentucky) which started on a Friday evening and ran until Sunday afternoon. My big plan was to debut a new release so folks would feel like they were getting in on something new and great — and that idea worked!
Here is the breakdown for you:
Booth: $250
Internet/electric: $180 (since I opted to take credit cards and didn't have a smart phone)
Hotel: $450 (yes, I wish I knew someone in the city where I could have borrowed a sofa!)
Food: $50 (I was in cheap mode!)
Books: $400
Costume: $300 (not really needed, but fun)
Banner: $285 (again, not needed, but it was really an eye-catcher)
Bookmarks: $65 (a GREAT investment!)
Poster for new release: $40 (including frame)
Promotional items: $250 (for sale items)
For a painful grand total of: $2,270
How much did I make in actual sales that weekend? $207.00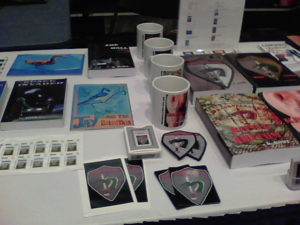 Now, that doesn't include the wildcat variables of people I chatted with, handed business cards and bookmarks to, and other media that could result in online sales. So it's difficult to accurately report how much in sales I truly had. Yes, it appears that I lost a ton of money — which is a bit true. Some things I really didn't need (like the costume or the banner), but I was in the mindset to try and attract as many people to my booth as possible. It was a big bonus to have my artist there doing live sketches and drawings which helped draw people in. He netted $275 in profits for the weekend. Of course, don't forget the benefit of effective frequency.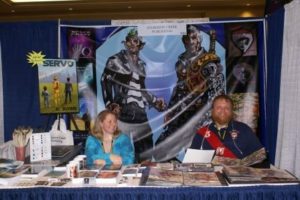 All hope is not lost. The large purchase of books will eventually be sold. In fact, once I got home, a friend came by and purchased $135 worth of books. And another person bought $39 worth. The banner, bookmarks, poster, and costume will be reused at another smaller (and less expensive!) Con set for late June in Louisville. So as you can see, things will get used again.
If all of this sounds exciting (despite the sticker shock) there are a few things you can do to make it less painful on the pocketbook:
1. Find a cheaper hotel or stay with someone.
2. Have an empty water bottle available (water cost $4.00!) so you can fill it up at a drinking fountain — because you WILL be thirsty from talking and the general temperature of the building.
3. Pack some of your own food like granola bars, candy, and things that don't require refrigeration.
4. Look for sales on promotional items (I used Zazzle.com and got a ton of stuff at 50% off).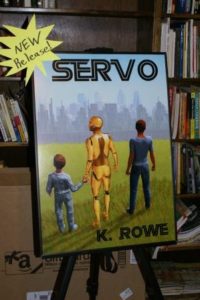 For the next Con, I'm planning on staying with my illustrator and we'll drive an hour each way to Louisville to avoid hotel fees. We will also be bringing more of our own food.
Comic Cons are a heck of a lot of fun. You'll meet people from all over which is the perfect way to get your name and books out there to the world. I can't say this type of event is for everyone. The crowds can be mentally and physically inundating and the days long. So if you're the quiet, reserved kind who prefers a library crowd over something like a football game, a Con probably isn't for you. By the end of the day you're hoarse from having to talk very loudly and generally exhausted. I had a great time, and obviously have plans to do another. And should there be more after that. I'm ahead on finding ways to cut costs. If you're an Indie author and looking for a way to get noticed, a Comic Con can help with that.