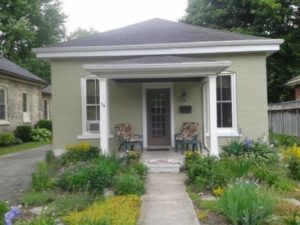 A discussion on Facebook page and the painful awareness that, for a number of reasons, I have not yet finished resurfacing the foundation of my house, sparked a train of thought on writing I'd like to share with you. I know that seems a stretch but hear me out. All will be revealed.
From my previous post discussing how home repair is like editing (and the other way around), you will recall that I learned the rudiments of a few skills, the results of which are in the picture here.
I scraped the old paint and crumbling mortar off my brick walls, learned how to point them, and painted them. Then learned how to remove loose bricks in the foundation, re-lay them, and resurface the foundation. All it took was one lesson from the handyman next door and some encouragement. The most important element, in my case, was the encouragement. I never would have started without that.
The result is not bad for a beginner. I'm pretty proud of that accomplishment. But would you hire me to do it on your house? Not likely. It would take me too long, therefore cost too much, and the results may not be exactly what you would accept from a seasoned pro.
Skills take education, practice, and time. I think the same must be applied to writing. Education, tools, practice, and encouragement – those are the elements that can lead to eventual success.
Just as it took an expert to show me what I needed to get started on my house, it takes a certain amount of education to learn how to write. And it takes encouragement for most of us to persist. Those factors alone will, in many cases, help us to become competent writers.
The problem is that competent writers are a dime a dozen. I know many aspiring writers who continue taking classes, who listen to the latest guru who "teaches" the latest "rules". These perpetual students try to apply the latest trend, i.e. the guru's advice, to their own writing style in the mistaken belief that doing so will help them break into that elusive success. After all, it worked for "that" guru.
And therein lies the rub. That guru found his or her own, personal route to success. It's not "your" route. While you may pick up a few new tricks from all those classes, they will not help you succeed. They may improve your skills to some degree but in my experience (from groups I have participated in) the result is prose that becomes more stilted, formulaic, and loses the flow it began with before the class got in the way.
Classes and new rules will not help you stand out. And, unless you stand out, you will never find true success as a writer.
As with every other skill, to become a master, to gain recognition as an artist, to "stand out", there comes a point at which you must discover what makes you unique. You must find "your" voice. There is no class in the world that can help you find it. It comes from allowing that inner guide, call it your muse if you like, to guide you, from trusting it, following it, honing, and sculpting it.
Yes, practice makes perfect, skills improve over time. But they have to be yours, not someone else's. Once you make friends with your individual voice, you will discover that your prose acquires a flow, feels more comfortable, and becomes more readable. Once you follow that voice, and let it grow and mature, you will find that you have a style that is uniquely yours, a style that keeps getting better the more you use and trust it. The wrinkles smooth out and the writing even becomes easier. Why? Because you are no longer fighting who you are, you are no longer trying to fit your square peg into the latest expert's round hole.
And that is what will make you stand out; that is what readers will look for and fall in love with.
So, take classes, learn the basics, practice all those skills. But in the end, you must find your unique voice. Once you have found it, leave the advice of the latest experts behind. You don't need them anymore. Allow your own personal voice to develop and flourish. Only then will you find success.