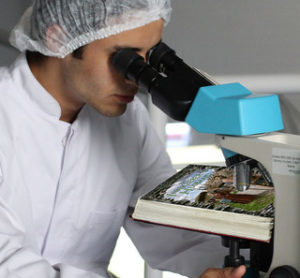 And why detectives need to be careful writing Detective Fiction, etcetera. Experts tend to fill their novels with esoteric information that gets in the way of the story, so choose your atmospheric/tech descriptions wisely.
Okay, Isaac Asimov had a PhD in Biochemistry. He was a genius. But I think it is safe to assume that you're not. And if you are, you shouldn't be listening to me anyway. Go away and create a brave new genre, and leave us plods in the dust trying to explain why you are so successful.
Asimov's genius was in using his scientific background to make his Sci-Fi believable, but not letting it become the be-all and end-all of his work.
That is the bane of science fiction writers. So many of them think that they can create all sorts of verisimilitude by having wonderfully accurate science in their stories. And they are wrong. Because what the vast majority of people want is good stories. They couldn't care less about the science. Readers want realistic characters, not realistic science.
Let me give you an example. I recently reviewed a Near-Future Sci-Fi story about a trip to Mars. Near-Future writers are especially prone to scientific overkill, because they are tempted into the cornucopia of information about present-day real science. However, in the middle of this "realistic" Sci-Fi story, a trio of astronauts whose mission was a fly-by of Mars decided to land on Mars instead.
Now, fans of Space Opera wouldn't see that as a problem. The science component of Space Opera is rather malleable, to say the least. But astronauts on a real, near-future trip to Mars would never have the technical capability to make such a change in plans. It requires a different kind of spaceship. Nor would their superiors back on earth allow such a diversion. It's a plot element from a separate genre, and an activity that is so out of character for modern astronauts and so out-of-tech for our modern abilities that it throws the reader out of connection with the story. The "Oh, come on!" response kicks in, and we start being cynical about all the other plot details as well.
The same book also had an author aside right in the middle of a key conflict. A main character had just been injected with a DNA-changing drug. Do we find out how he reacted? No. The villain instead leaves him a scholarly discourse on the qualities of the various genes that will be altered by the medication. And, to make it even more obvious, the author inserts a footnote stating, "This document contains a variety of technical terms that may be confusing to the average reader. Skip over it if you find it tedious."
Shock and disbelief. This writer is admitting out loud that she knows she has filled the novel with tedious jargon, but rolls blithely on, thinking that "average readers" will accept it.
Why Does This Happen?
How could such a situation develop, and why does an otherwise highly intelligent author make this mistake? I think it has to do with the milieu in which the writer's muse is nurtured. The problem for the scientist is that the scientific mind is usually developed in a university where the standard form of learning is the lecture and the textbook. So there develops in the writer's mind the concept that the audience expects lectures and difficult-to-read prose. Which is a killer, readership-wise.
Show, Don't Tell
It doesn't hurt to make a brief review of that most basic of writing conflicts, the "show-tell" argument. When applied to Sci-Fi, it is pretty difficult to show technological setting. It is much easier to tell it in huge dumps of setting description. And Sci-Fi fans, especially Hard Sci-Fi, are used to this. They expect it. They revel in flights of fancy involving spaceship cockpits, replete with holographic representations of the universe and beyond.
But they'll only take so much. And when it comes to scholarly dissertations on genetic sequences, they won't take very much at all. The book I mentioned above had an appendix with the full sequence of a specific gene, colour coded so that we could understand which part was which. This seems like an author who has not drawn the distinction between a novel and a textbook.
Too Much Extra Info
I know they always tell beginning writers to "Write what you know." But don't overdo it, or you'll end up with only people like yourself reading it.
And let's not only pick on scientists. It is standard practice in the Detective Mystery genre (and even more so in Cozy Mysteries) to have an alternate interest to add depth to the book. So we have a detective who likes orchids, a detective who is a baker, a detective who runs a used costume shop, and a detective who repairs old wringer washing machines, for all I know. But readers still want a mystery solved, and they don't want a whole bunch of machinery description getting in the way. Unless the murder weapon is a wringer-washer of course (ick!). Police Procedurals likewise. Unless the procedures interfere with or enhance the detective's job, they are frills, to be tacked on sparingly.
I'm a Fantasy writer. Recently I used the Californios of old Mexico as background material for a quasi-historical setting. Then my editor made me cut a whole bear-roping chapter, first because it was politically incorrect, and secondly because, interesting and historically accurate though it was, it had nothing to do with the story line of the novel.
I have the same message for all genre writers. Write a story. Write a good story with proper form and fascinating characters. Then add a touch of that special extra stuff, just enough to keep the readers entertained.
Like Asimov did.