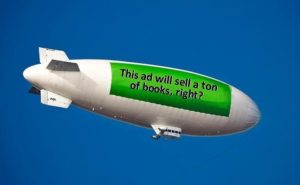 As indie authors, we have a wealth of types of marketing and promotional opportunities available to us. However, some types aren't as effective as others, and some are more effective when you're farther along in your career. As a newbie, where should you concentrate your efforts? As a more seasoned indie, what will boost you to the next level of visibility and sales?
Here's one list, together with our recommendations for when best to employ each type. Some are free; some, not so much. I've included a $ next to the ones that will cost you money.
For newbies:
* Amazon Author Central Page – If you do nothing else, do this. As soon as you publish your first book, Amazon gives you the opportunity to set up an author page on their site for free. DO. IT. Consider it your home page until – and maybe even after – you can get your profiles on other sites set up.
* Facebook / Twitter / Instagram / other types of social media – You don't have to do them all. Pick one or two, set up your profile or business page, and start connecting with other people. Note: "Connecting" does not mean posting constant pleas to whoever's listening to buy your book.
* Free advertising – We have a resource page with a list of sites where you can advertise your book. You send the site your info – often there's an online form to fill out – and then you hope they publicize your book for you. This is hit-and-miss, obviously, but it doesn't cost you anything but time. Always double-check the site's listing before submitting your info to make sure they're still taking ad requests, they're still free, and they're the sort of place where you're likely to find readers for your particular book. (Not all the sites listed on that page are free, FYI.)
* Review programs ($) – One of the toughest hurdles facing a new author is finding five or so people to read and review your book. Many paid review sites won't advertise your book unless it has a certain number of reviews with an average rating topping a specific number of stars (often four). One way to get those precious reviews is to sign up for a program that will provide your book to readers interested in your genre, and give them some sort of incentive to post reviews of your book at Amazon and possibly other sites.
* Review tours ($) – A sort of cross between a review program and a blog tour: the tour organizer finds book bloggers who are willing to read and review your book. Sometimes the bloggers post their reviews at Amazon, but not always.
* Book giveaways – This is another way to collect reviews, although it doesn't always work as well as paying for a review program. Goodreads and LibraryThing offer authors the opportunity to give away copies of their books, with the winners encouraged to leave a review. Giving away your book on these sites will get it onto a lot of "want to read" lists, which will raise visibility of your title. But it won't always get you sales – or reviews.
* Your own website (free to $) – You can either pick a free website provider like WordPress.com, or hire someone to set one up for you.
* Your own blog – Some authors think blogging is too much trouble, but it can work if you like writing about this and that, or if you have a specific topic relevant to your book(s) that you want to blog about regularly. Alternately, you might do a joint blog with several other authors.
* Blog hops – One blogger sets up the topic for the hop, recruits bloggers to post about the topic, and sets up a page on their own blog listing all of the posts. Readers can then click through to the individual posts. This can be a lot of fun.
* Writing posts for other authors' blogs – This allows you to get your name in front of the other author's fans, which is great if both of you draw the same reader base.
* Multi-author anthologies and box sets – One author acts as editor and pulls together stories, or full novels, by a number of authors, and then posts the result for sale on Amazon. You probably won't make any money from the book itself (a lot of times, participants agree to donate any proceeds to charity), but you may gain new readers from other authors' fan bases.
* Newsletter – It's never too soon to start a mailing list. Use it to let people know when you have a new book out.
For more experienced authors:
* Paid advertising ($) – Many newsletter-type book advertisers ask for money to list your book on the e-mail they send to their subscribers every day. Also, Amazon, Facebook, Goodreads, and other sites offer the opportunity to buy ads on their sites. Some of these opportunities offer a better return on your investment than others, though.
* Blog tours ($) – A blog tour can help get your name in front of new readers, but choose your tour operator carefully.
* Interviews – Sometimes interviews will be rolled into a blog tour. They seem to garner more attention when the author has some name recognition. Of course, there are always other types of interviews, including radio, newspaper, etc.
* Kindle Scout – In this program, Amazon allows authors to submit books for readers' votes; some are chosen for publishing by one of the Zon's own imprints. But having lots of likes for your book is only part of the formula, and Amazon isn't telling what makes up the rest of the score.
* Street team – Once you have a core of loyal fans, you can give them the opportunity to spread the word about your books. One of the rewards for participation could be an ARC of your new book (with a promise that they'll post a review).
* Facebook events – These were very popular for a while. You set up an event page on Facebook and invite a bunch of your friends to stop by. During the event, you offer music, games, prizes, and virtual refreshments. Done well, it can be a lot of fun, and might even net you a few sales.
Don't bother:
* Trading reviews with other authors – We have heard numerous horror stories about authors who discovered the author they swapped books with is a lousy writer, and must then decide whether to give the book the rating it deserves. Besides, Amazon has been known to delete reviews written by other authors. Best to steer clear.
* Paid reviews ($) – We're talking about the sort of thing where you submit your book to a big-name place, together with a fat check. These are usually a waste of money.
Did we forget anything? Let us know below.