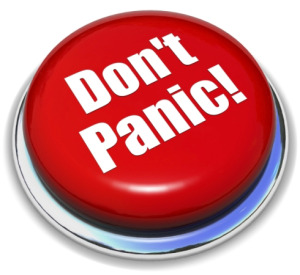 While taking a short break from obsessively Googling your name and checking your KDP dashboard, you wander over to search for your book on Amazon. Imagine your surprise when – gasp – you see two listings. Or three listings. Or even more! Someone named IHeartBooks is selling your paperback on Amazon! Not only that, but – horror of horrors – they're charging more than you are. Or maybe less than you are. Or maybe you're one of those authors who's stumbled across a copy of your paperback selling on Amazon for $6,789 or some such outrageous price.
The stinkin' pirates! You should immediately fire off a DMCA takedown notice to have your book removed. Shouldn't you?
Well … no, actually.
Why not, you ask?
Because your book hasn't been pirated, and no one has violated your copyright.
I'll give you a minute to catch your breath.
Here's the deal:  if someone is selling your paperback, they got it from somewhere, right? Maybe it's a used copy. The first sale doctrine, "…codified at 17 U.S.C. § 109, provides that an individual who knowingly purchases a copy of a copyrighted work from the copyright holder receives the right to sell, display or otherwise dispose of that particular copy, notwithstanding the interests of the copyright owner. The right to distribute ends, however, once the owner has sold that particular copy."  [Italics theirs.]
That's right; sellers have every right to sell a used copy of your book. This is how we're able to buy used books, DVDs, and CDs.
But this is a new copy, you say? You haven't even sold a copy yet, but someone is selling new copies on Amazon?
Third-party sellers often advertise books they don't yet have. Why? Beats me. Maybe to increase their inventory and make their online store look bigger. At any rate, if someone wanders along and decides to buy your book from one of them, they have to provide a copy of your book. Where do they get it? Most likely, if you're using CreateSpace Expanded Distribution, from CreateSpace Direct.
Don't believe me? Take a look at your sales channels on CreateSpace. See CreateSpace Direct in the screenshot below? When you click on the blue "What's this?" link underneath, this is the popup you get.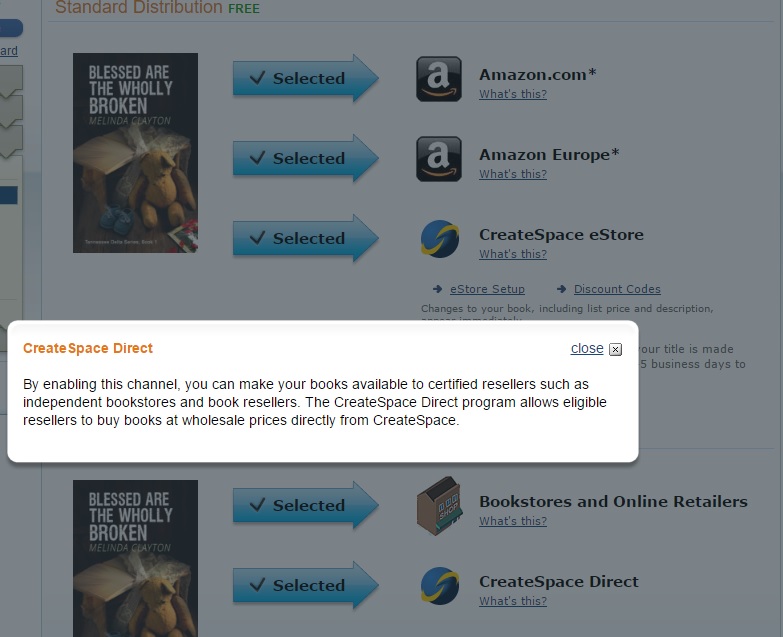 That's right. If that option is checked, you've given permission for independent and used bookstores to buy your books at wholesale prices. Eligible buyers can buy your book at a wholesale price from CreateSpace, and sell it for a profit on Amazon. You still get paid for these sales, by the way.
Smart shoppers will search for the lowest price. That might be the sales price you've listed it for through CreateSpace, or that might be a lower price offered by a reseller who purchased it at a wholesale price directly from CreateSpace.
Those outrageously priced books? Again, a smart shopper will look for the best price. If a third-party seller can pay me – via CreateSpace – the wholesale price and then turn around and sell my book on Amazon for $6,789, I seriously need to take some lessons from that person.
Either way, you get paid for the book. If it's a used copy, you were at one time paid for a new purchase. If it's a new copy, the seller has to buy it before they can sell it, at which time you'll be paid.
Now, having said all that, there could be a couple of exceptions, particularly for bigger publishers.
1. If you or your publisher have sent out ARCs (advanced review copies), those sometimes get sold as "new" on places such as Amazon, even though it's against their rules.
2. Likewise, if you or your publisher choose to have stores return or destroy unsold copies, those remaindered copies may end up being sold as new instead of being returned or destroyed, which is also against Amazon's rules.
If that happens, the seller really is making money from a book for which you were never paid, which while not necessarily illegal (I'm not an attorney, and copyright law is full of gray areas), is against Amazon's rules. Still, it's doubtful these two scenarios have much impact on indie authors and small presses simply because we don't tend to send out many paperback ARCs, and our paperbacks (sadly) don't tend to be on a high number of brick-and-mortar bookstore shelves from which they might be returned/destroyed. But it's worth noting.
I suppose, worst case scenario, I'd probably just be grateful someone bought one of my books and might enjoy it enough to buy another one – preferably from me next time.