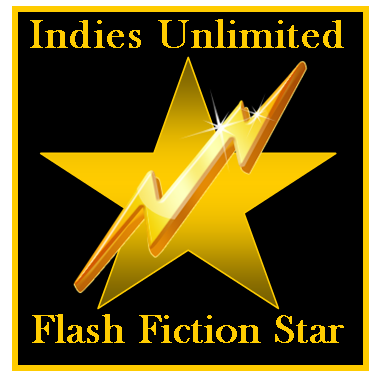 Dale E. Lehman is the Readers' Choice in this week's Indies Unlimited Flash Fiction Challenge. The winning entry is decided by the popular vote and rewarded with a special feature here today. (In the case of a tie, the writer who submitted an entry first is the winner per our rules.)
Without further ado, here's the winning story: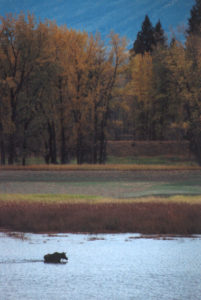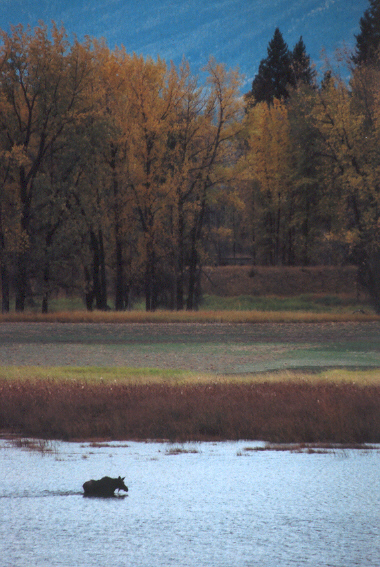 Autumn
by Dale E. Lehman

"I've shed my antlers. Just like that fellow there."
Nick Siegel nodded toward the bare headed moose picking its way up the soft flowing river. The deep blue sky reflected pale in the ripples. Beyond, the forest shimmered gold and red over a bed of damp fallen leaves. The creature paused and looked up, sniffing the air, perhaps wondering if the strange scent of humans signaled danger. Once persuaded of safety, it trudged on.
His wife June adjusted her backpack. "You'll always have antlers. They're in your genes."
"No, I've shed them for good. You can have them mounted and hung on our wall, and gaze up and them and remember the young buck you married."
"Stop that. You're a lawyer, not a poet."
A cool autumn breeze blew along the river, through the valley, over the couple hiking alone through the wilderness. "I saved this land," Nick said. "I fought for it and kept out the drills and the pipelines, and now it's safe and no longer needs me. I'm exhausted from the fight. So are you. Don't think I don't know how much you sacrificed."
June watched the moose navigate a bend in the river and pass from view. "Summer giving way to autumn, is that it?"
Nick took her hand in his. "Why not? It's the way of the world."
"Because I'm not ready for winter." She squeezed his hand. "Grow those antlers back."
"What, now?"
"Well," June said. "Okay. Maybe come spring."