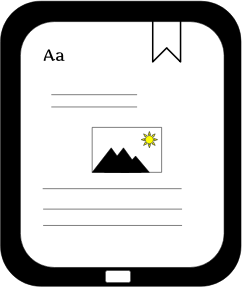 Some of you may have seen discussion board and/or Facebook posts flying around recently about X-Ray for authors.  What is it? Well, in KDP's words it's " … a unique Kindle eBook feature that allows readers to learn more about a character, topic, event, place, or any other term, simply by pressing and holding on the word or phrase that interests them."
In plain terms, it's a feature that, when turned on, allows Kindle readers to tap on a highlighted word or phrase in an eBook in order to learn more information about it.
It can be a fun option for readers and authors alike, and is easy to set up through the KDP dashboard. Navigate to the book you want to have the X-Ray feature and hover your mouse over the little box on the right (see red arrow below). You should see either "Add X-Ray," or "Launch X-Ray."

A side note: Sometimes KDP takes it upon itself to enable X-Ray for us. You can see if this has been done by going to your Amazon book page and looking at your book's information, down where the publisher, page count, ASIN, etc., is listed. You'll see X-Ray in that list. If KDP has already launched X-Ray for the book, it will say "Enabled."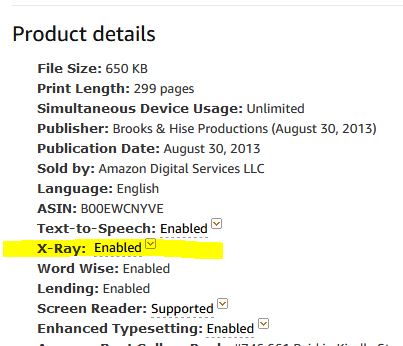 If that's the case, back at your dashboard you'll see "Launch X-Ray" when hovering your mouse over the little box. If it hasn't been enabled, you'll see "Add X-Ray."
Either way, click it, because if KDP already enabled it for you, you'll no doubt want to make some changes.
If you clicked "Launch X-Ray" you'll be taken to a list of words and phrases. If you clicked "Add X-Ray," you'll receive a pop-up that asks you if you want to request X-Ray. If you do, click to "Request X-Ray." Amazon says it can take several hours for the process to be activated (but it only took a few minutes for mine), and you'll receive an email once it's activated.

When you receive the email, go back to your dashboard and click "Launch X-Ray." As mentioned above, you'll be taken to a list of words and phrases. (See screenshot below.)
Another side note:  When you first click, you may receive a scary looking pop-up telling you that you don't have access to that page. This is a known bug (I know this because it totally freaked me out and I contacted KDP about it). If you get that pop-up, just go back to your dashboard and click to "launch" again. You should then be able to gain access without any scary pop-ups.
Once you've gained access, you'll see a page that looks a lot like the one below.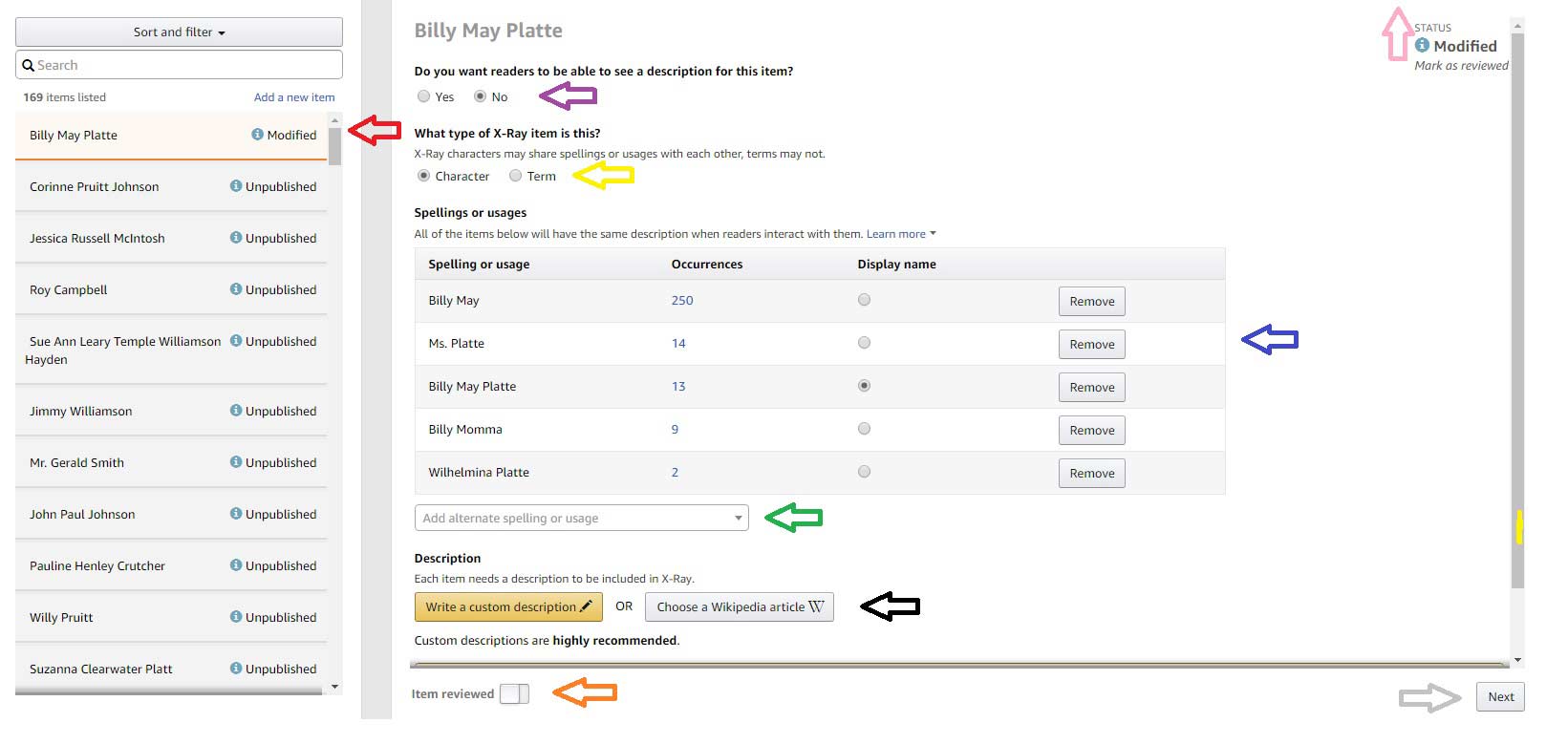 X-Ray seems to pull all the proper nouns from the book – character names, place names, etc. In addition, as you scroll through the list on the left (red arrow above), you'll also see some random words pulled from the text (for example, I had "coffee" and "church"). This will especially be true if KDP enabled it for you without a request from you. That's why I said you'll no doubt want to make some changes.
Let's get started.
1. Click on a term over on the left.
2. If you want readers to be able to search the term, click "yes" (purple arrow above). If you don't, click "no."
3. Next, check whether the word/phrase is a character or a term (yellow box above).
4. You'll see that Amazon has pulled what it considers to be all the spellings and usages of that particular term (blue arrow above). If you disagree, you can remove the term. If you have a different iteration you want included, you can add it (green arrow above). The same definition will be used for all of those terms.
5. If KDP found a Wikipedia article it thinks is accurate, you'll see it displayed. This is what readers will see when they click on your term. If KDP hasn't found one, you can search to find one, or you can provide the description yourself (black arrow above).
6. Once you have the description you want, check the "Item reviewed" box at the bottom (orange arrow above).
7. You can then click "Next" (gray arrow above), or you can click directly on the list to access the next item (I found clicking on the list to be faster).
8. When you're finished, click the review and publish button on the top right (or just exit if you don't want to make any changes) (pink arrow above).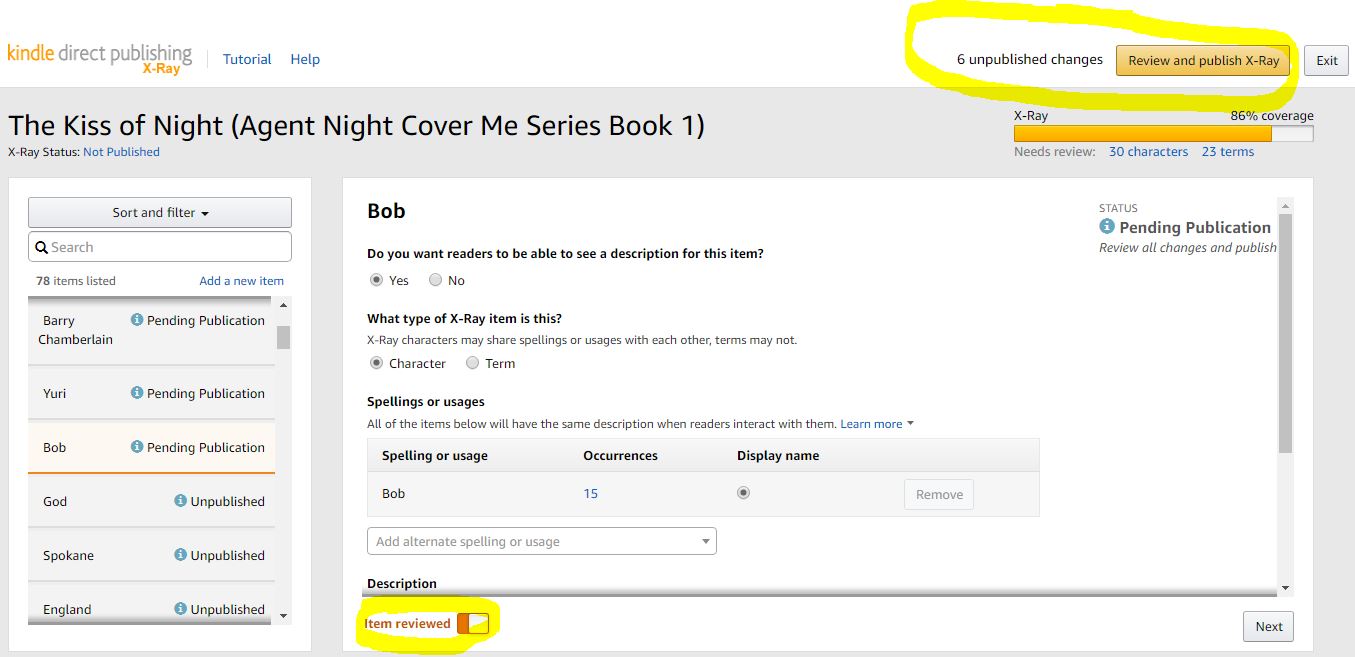 9. Clicking publish and exit will bring up a new window. Just review that, and hit publish and exit at the bottom. And you're done.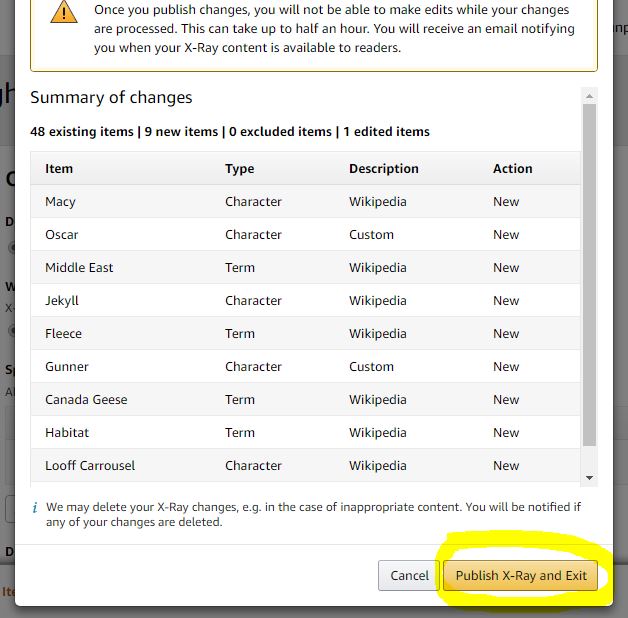 Some quick FAQs:
a. According to KDP, if the Wikipedia article is updated, readers will get the updated version.
b. Readers won't be distracted by hyperlinked words everywhere, because they'll only see them if they choose to turn on the feature.
c. You can add terms KDP didn't automatically pick out for you.
If there are questions I didn't cover, post them in the comments and I'll do my best to answer. Meanwhile, go try it out!