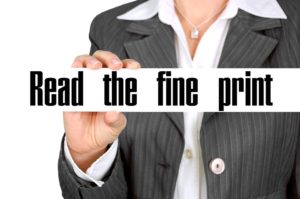 Here at Indies Unlimited we work hard to help you make good publishing decisions without getting scammed.  We talk about scammy publishers, scammy services, and scammy agents. Some of us learned through the school of hard knocks, while others were cautious from the very beginning.
Still, not a month goes by that I don't see someone make a decision that has me shaking my head. Quite often, that decision has to do with contracts.
Several years ago I wrote a book, now out of print, warning of some red flags when it comes to signing with a publisher. One of those red flags had to do with contracts. I said:
Does your contract match the statements made on the website? A friend originally agreed to a contract with her previous publisher partially because their site stated they would put books on local shelves and send copies out for review. She had found information during previous searches to support that claim. She had also been pleased to find that some of their authors had placed in various contests and competitions. Those were all good signs.
Unfortunately, these promises never came to fruition. She was told books would no longer be sold in brick-and-mortar stores because the return fees were too high. She never received any official word regarding reviews, contests, or copyright registrations, but could only assume those fees were also too high, as nothing was ever done.
Had she known these policies would change, she'd never have signed on. Unfortunately, she didn't make sure those items were specified in her contract. They weren't. Lesson learned. Make sure your contract specifies all the promises listed on the website.
That warning sign is pretty basic, but others are more complicated. A new author recently asked me to look over a contract for her. I am not a lawyer, which I made very clear upfront. But having been scammed myself, and having since begun my own tiny publishing company, I've gotten familiar enough with contracts for the biggest of the red flags to catch my attention.
This is what I found, and what I subsequently wrote to her. Pay attention to the bolded terms so that if you ever see them in a contract, you'll be prompted to read that section very carefully.
Section 1:  Term of copyright. They want your book for the full term of copyright. Copyright in the U.S. is for 70 years after the death of the author. In essence, you're giving them your book forever, unless they decide to terminate the contract for some reason. I didn't see any provision that allowed for YOU to ever terminate the contract. This means if you're unhappy with them, too bad. They have your book forever.
Section 9:  Competing works. If you sign, you're agreeing that while you're with this publisher you won't publish any works on the same subject with any other publisher.
Section 10:  First option. You're giving them first option to publish any of your future writing. This goes along with Section 9: If you write a book on a similar topic, they get the first option to publish it. If they don't want to publish it, according to Section 9 you're still not allowed to publish it anywhere else.
These sections worry me, because what they essentially say is that if you're unhappy with them, that's too bad. You can't terminate the contract, and you can't go to another publisher to publish a book on the same topic.
Then I again urged her to consult with an attorney before signing.
Last I heard, she'd signed the contract. I don't know if she ever consulted with an attorney.
I hope she did, but the scary thing is, these terms are pretty standard. I've seen them in a few contracts the past few years.
If you receive a contract like the one above, please read it carefully. And please consult with an attorney before signing so you know what you're getting into.