Guest Post
by Dale E. Lehman
In my last post, I introduced you to Medium, an ad-free platform for readers and writers. You're no doubt champing at the bit to earn money for Medium stories, so let's get started. Follow me as I guide you through the authoring tools.
After logging in, your profile image appears in the upper right corner. Click this to drop down your profile menu. You'll see a number of useful tools are here. Let's start with "New Story." Click that to access the editor.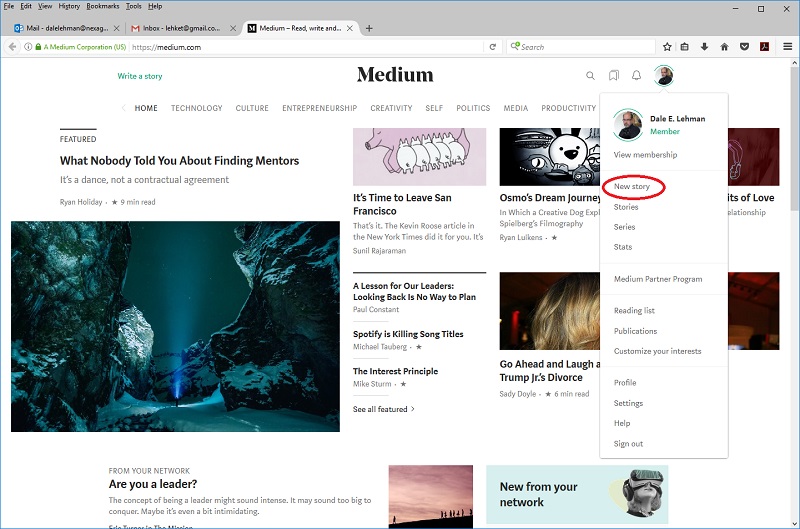 The editor is insanely simple. An inactive dropdown at the top lets you enroll your story in the Partner Program. Once you type the title or some story text, this will be enabled. By default your story will not earn money, so be sure to change this before publishing. Your author header comes next, then text areas for your title and story. The plus sign provides access to basic formatting and image import tools.

Type your title, then start typing your story. Medium auto-saves your work as you go. Press the Enter key to start a new paragraph. When you do, that plus sign will appear beside it. Click on it to see a set of icons for adding an image, searching for an image in Unsplash (a stock image library licensed for use by Medium), adding a video, adding an embed, and adding a new section.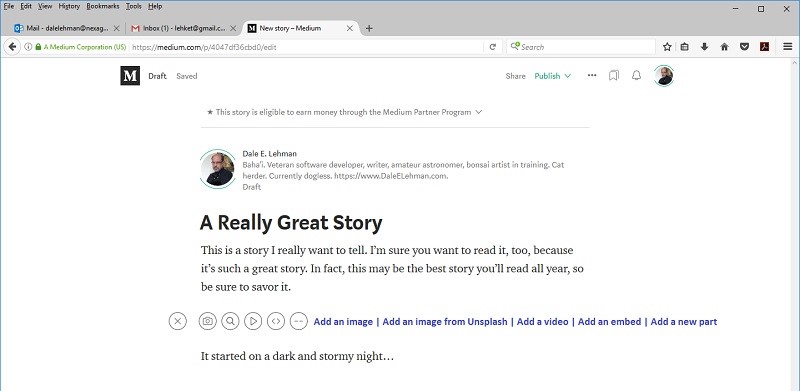 Medium suggests including at least one image in your article. Only add images for which you own the copyright or have a usage license. Medium hates copyright violations, and so should you. Unsplash provides images licensed for use on Medium. Their search tool pops up right in the editor, too, so it's easy to use. A caption area appears below each image. Captions are optional, but it's a good idea to put required notices here. If you import from Unsplash, the caption will be prefilled for you.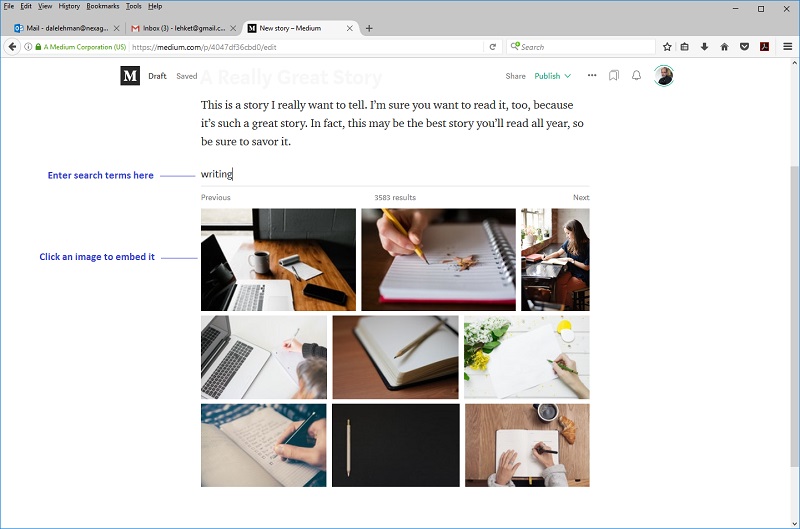 Next, highlight some text and some editing tools will pop up. You can set bold or italic text, add a hyperlink, and toggle the font style. If your paragraph consists of more than one line, you can set the first character as a drop capital. You can set text as a quote, and finally, you can add a private note that only you and publication editors see. Private notes are often requested by publications for submission information, such as email addresses.

When you click an image, positioning tools will display. Play with all of these to learn how they work. Also check out stories by other writers. You may get formatting ideas for improving your presentation. Don't forget to clap, comment, and follow while you're at it!

Being a savvy writer, you'll repurpose your blog posts as Medium content, right? Absolutely, and Medium's import tool stands ready. Open your profile menu and click on "Stories." This accesses draft and published stories. You can edit or delete any story as needed. Also, you'll see a pair of buttons in the upper right: "Import a Story" and "Write a Story." Click the import button, then enter the URL of the web page you want to import. The next page provides instructions, but just click the "See your story" button, and you're back in the editor with content imported.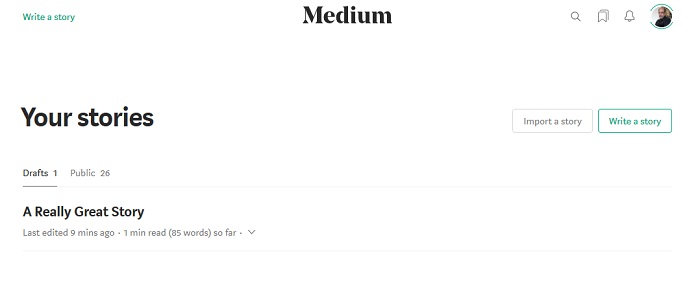 Use the correct URL when importing. If you import your blog's home page, you won't pick up what you want. Most blog home pages display multiple stories, and some only display teasers. Use the URL for the specific post you intend to import. And never import someone else's content. Think copyright.
Your epic is done, complete with snappy title, alluring images, and pleasing formatting. It's enrolled in the Partnership Program. The big green "Publish" link at the top now draws your eye. But wait! See those innocuous gray dots just to the right? Click them to view a menu of useful commands. "Hints and keyboard shortcuts." "Help." I wish I'd known about those from the start! Also, note the "Customize title/subtitle" command. Click it and be horrified.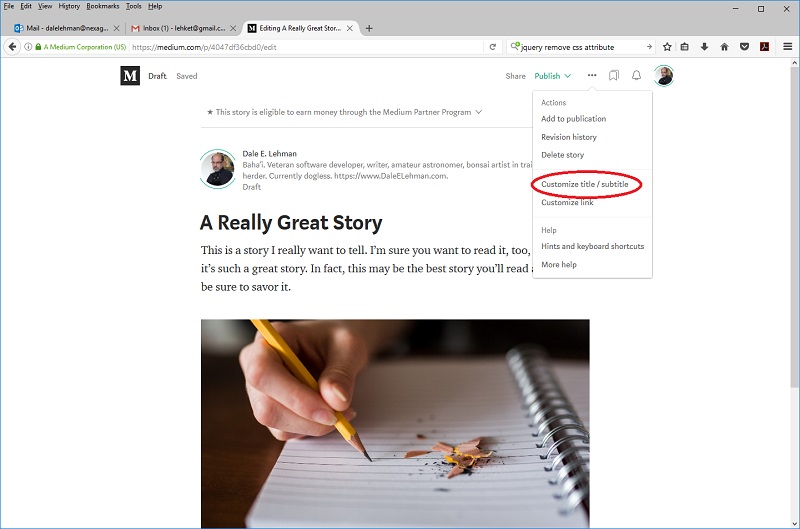 Here you'll see your title, subtitle, and description, all automatically generated. Your title is fine, but your subtitle and description are pulled form your story's first paragraph. This is horrifying because these items introduce your story on Medium home pages, previews, and newsletters; in Facebook and Twitter posts; and in search results. You never, ever want the defaults!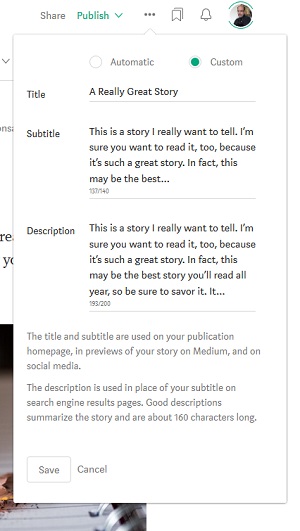 Click "Custom" to edit this information. Enter a short, catchy subtitle and a short, catchy description. Keep the description to tweet length, 160 characters, if possible. When done, click "Save."
Now click the green "Publish" link and . . . fill in another form. Add up to five tags. One is usually suggested based on your content. Keep it or pitch it as needed. Start typing a new tag to get suggestions. Pay attention to the numbers that accompany the suggestions. They indicate how many people are following that tag. The more, the better. Click the checkboxes to share your story on Facebook and Twitter. Finally, at long last, click "Publish."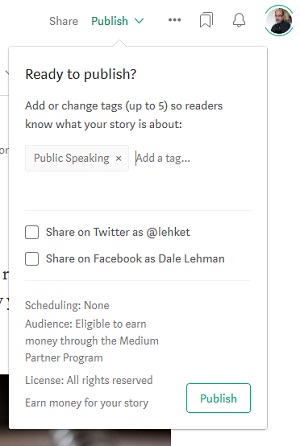 Congratulations! You're a Medium author! Your story will be served to Medium members via home pages, newsletters, and searches. It will appear on your Facebook and Twitter profiles, and you can share the story URL wherever you go. Found a typo? Go back to the editor and fix it. Track your statistics via the "Stats" link, and periodically check your earnings via the "Medium Partner Program" link. Both are accessed through your profile menu. Earnings are posted late each Wednesday.
Have fun reading and writing at Medium, and be sure to visit me at https://medium.com/@lehket. If you follow me, I'll follow you. I'm looking forward to clapping for your stories!
---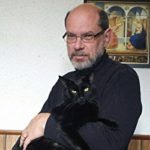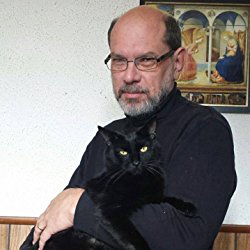 Dale E. Lehman is a software developer, amateur astronomer, and novelist. His third Howard County Mystery, Ice on the Bay, is due out in February, 2018. His writing has also appeared in Sky & Telescope. You can learn more about Dale on his website and his Author Central page.