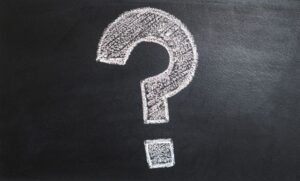 When it comes to the online world, Google is a major player, with its search engine and web browser kings of the market. So, it would seem like Google would be a good place to sell eBooks. On the surface, that makes sense. But, recently, the only major self-publishing distributor that allowed authors easy, commission-based access to Google's platform — Draft2Digital — stopped offering that service.  As this was one of the only services to help authors get published on Google, some are asking whether Google Play is worth the trouble.
The simple answer, unfortunately, is the same as that dreaded Facebook relationship status: it's complicated. Why is it complicated? For one, because Google isn't exactly open to all new authors. Several years ago, after some issues, Google Publishing closed the program to anyone who wasn't already signed up. While Google now accepts new authors, it's not automatic. Per their site:
"We're currently accepting a limited number of new publishers to the Google Play Books Partner Program. You may express interest in joining the program through our online interest form."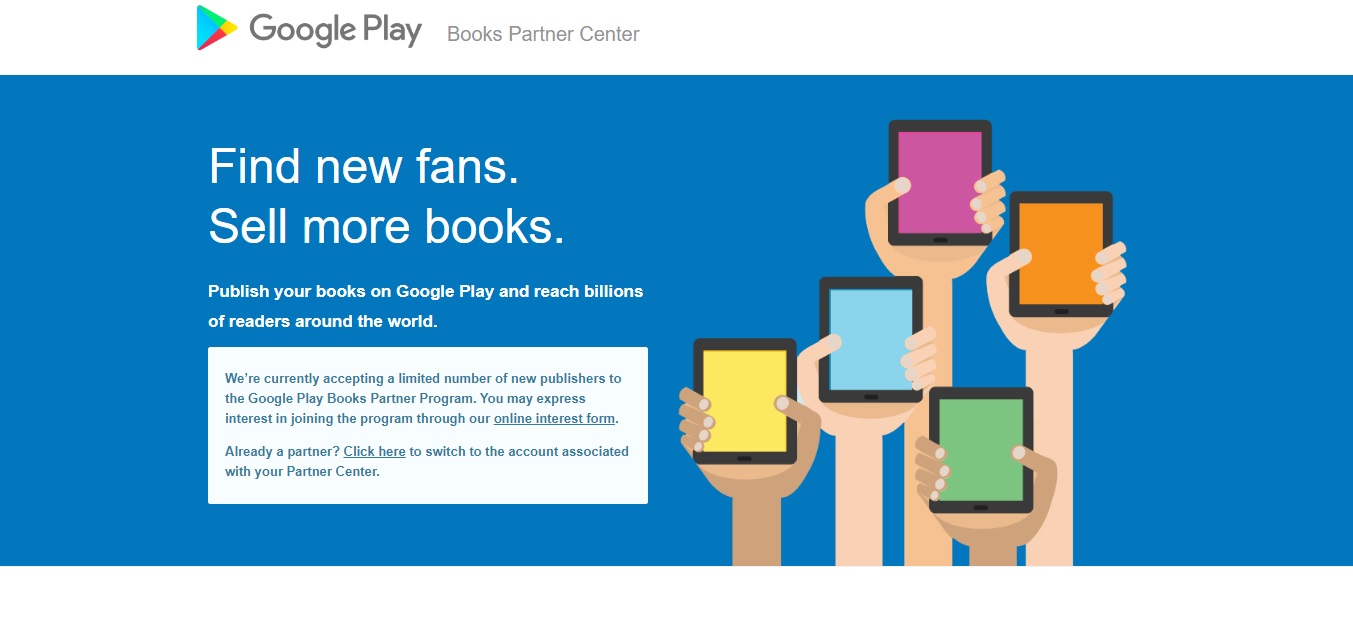 The other reason it's complicated is because selling books via Google also depends on your overall strategy. If you're committed to being in the Kindle Unlimited program, you have to be exclusive to Amazon, so it's not really a concern for you. If your strategy is wide sales, then you have to ask how important Google is to that strategy. If you're committed to selling as many places as possible, then being on Google is something you'll want.
Getting a Google Publishing Account
If you don't already have a Google Play Books Partner account (the official title of their publishing arm), it makes self-publishing via Google Play quite difficult. One way to publish on Google without such an account is through a distributor. However, as just noted, D2D, a major distributor, doesn't do that anymore. Smashwords, also a major distributor, doesn't distribute Google Play, either. When looking for other distributors to Google Play, I found only PublishDrive, which allows you to publish one book for free, but after that requires you to pay a monthly subscription fee for their service. While this model may work well for some, the more typical model (particularly if you are not sure how well books will sell) is where the distributor takes a cut of every book sold, but doesn't require you to pay anything up front. That way, you only pay if you sell books.
If you already have a Google publishing account, don't give that up. Definitely keep it, and use it when you want to publish on Google. If you don't have an account, should you try to set one up? Again, if you're not Amazon exclusive, then yes, try to get one. I'm not clear on how often they accept new authors, but it's certainly worth asking for an account. You want to have as many channels as possible, if you're selling wide. Yes, most people sell most of their books through Amazon. But there are readers who like Google and get their books there, and you don't want to turn your nose up at them. If Google doesn't let you open a publishing account, I wouldn't recommend paying a monthly fee to publish there, unless you're certain you'll be selling a lot.
Massive Improvements If You're on Google
If you have a Google publishing account and haven't used it in a while, I will say this: Google has made some massive improvements. It used to be that you would price your book, and if Google felt that price was too high, they'd lower it without notifying you. This meant you had to consult an elaborate chart to figure out what high price to set for your book, so Google would automatically discount it to the actual lower price you wanted to sell your book for. If you didn't know this, and set your price at $2.99, for example, Google would discount your book to $2.09, and then Amazon — the king of price matching — would drop your book's price, too. It irritated a lot of authors. Thankfully, Google changed that last year, making the price you enter the price they sell the book for. This has made Google much easier for authors who publish their books there.
Google also got a lot better about simple things. For example, previously, it was very difficult to find a direct link to your book. Now, when you click on a book you've published via the Google dashboard, it tells you the book is live and provides a link so you can see it.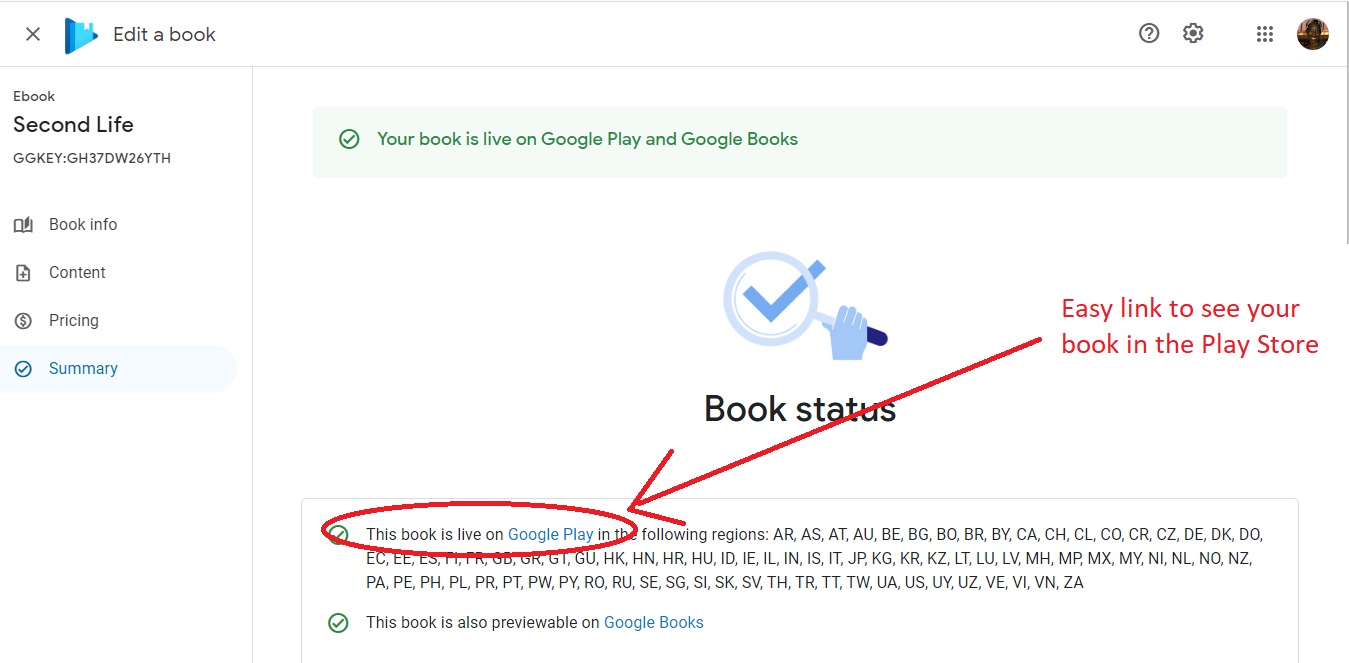 Google still isn't great when it comes to tracking sales. While Kindle Direct Publishing offers a daily graph to see sales and D2D also provides daily sales tracking on their site, if you want to see your Google sales, you have to download a spreadsheet each time. There is nothing online that shows you current sales for the month. If you're selling a lot of books on Google, having to do a daily download could feel burdensome. If you're selling just a few, and only check sales every few weeks, it's not a huge deal.
So, what are your thoughts on selling at the Google Play store?