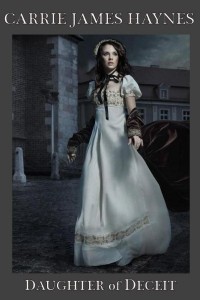 Today we have a sneak peek of Carrie James Haynes' book, Daughter of Deceit:

For years no one has questioned that Alyce's father was England's worst traitor…a spy for the Americans during the American Revolution…selling English guns and gun powder for his own gain. Caught in the web around him, he took his own life. There is only one problem. Alyce doesn't believe her beloved father was the man the world believes him to have been and she will stop at nothing to prove his innocence. Then strange things begin to happen. Voices call to her…warning her…for now someone wants her dead.
Lord Julian Casvelyn has mourned his brother's death, murdered by England's most hated man, but one eventful night has changed everything Lord Julian believed about his brother's death. Never did he suspect the woman he has just saved from certain death is the daughter of that man. Julian is caught in midst of a conspiracy and desire for a woman where he soon discovers he might well want all to remain secret.
Daughter of Deceit is available on Amazon.com for FREE through February 16th. Continue reading "Sneak Peek: Carrie James Haynes' Daughter of Deceit"