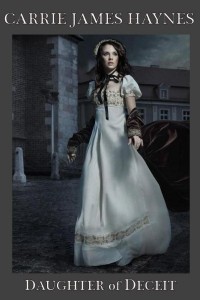 Today we have a sneak peek of Carrie James Haynes' book, Daughter of Deceit:

For years no one has questioned that Alyce's father was England's worst traitor…a spy for the Americans during the American Revolution…selling English guns and gun powder for his own gain. Caught in the web around him, he took his own life. There is only one problem. Alyce doesn't believe her beloved father was the man the world believes him to have been and she will stop at nothing to prove his innocence. Then strange things begin to happen. Voices call to her…warning her…for now someone wants her dead.
Lord Julian Casvelyn has mourned his brother's death, murdered by England's most hated man, but one eventful night has changed everything Lord Julian believed about his brother's death. Never did he suspect the woman he has just saved from certain death is the daughter of that man. Julian is caught in midst of a conspiracy and desire for a woman where he soon discovers he might well want all to remain secret.
Daughter of Deceit is available on Amazon.com for FREE through February 16th.
And now, from Daughter of Deceit:
"Answer me this. Do you know no matter if you hold your father is innocent, the world does not? No matter if your young Marques holds to you, you are walking into social damnation, fair or unfair. It will not be pleasant. How long do you think it will take for someone to figure out who you are? I would wager it will not be long. And then there is the matter of the threat upon your life?""You are mistaken that I am trying to run from my name. I am not. Since my father's death, I have faced his disgrace. No one thought it necessary to inform me how my father died until I was seventeen. All I knew was that he was dead. Not until Charles told me. He has been my only true friend, my Lord. I have only once visited my father's grave and it was only through Charles I did so. Do you know what it is like to see your father's grave ostracized from holy ground for they deem he committed suicide?"
"I know lost. I feel it every day. I dealt with my brother's death knowing that the fiend that killed him also lay in the ground. But with your words you uttered to me, I find myself questioning all about my brother's death. And with those words, I questioned the wisdom in allowing you this Season."
As he spoke, he astonished her with his movement, transforming her back to that night, that room, that embrace. He moved closer, so close it seemed she could no longer claim air between them. His arms encircled her and pulled her face upward toward his. His touch startled her. She looked at him in surprise. She saw his intent, yet made no resistance. Wanting to protest, her body rebelled against the thought.
A gasp escaped her lips as he lowered his head to hers. His lips moved against hers, firm yet yielding. She melted into the sensation his kiss inflicted, the thrilling excitement and warmth flowing through her body. Her mind told her to resist though her body paid no attention to the warning. Instead, she responded to him. Gently he prodded her lips with his tongue to part. Slowly as if giving her time to get used to the idea, he slipped his tongue inside.
Within her a voice called to her to be sensible. He was dallying with her, no more, no less to prove his point. Yet, she ignored the voice choosing instead to surrender to the want within her and parted her lips fully to admit him. An intimacy flowed within her, so wonderful, awakening parts of her body she didn't know were alive.
His arms tightened around her as pleasure cascaded through out her body. His kiss lingered. He didn't stop with one. He kissed her again and again, astonishing her and evoking shivers that flowed down her body. A series of pleasurable sensations left her crying for more. He kissed her again, more aggressive, more demanding. Within her she had long lost any rational thought for he had her mesmerized.
She felt his hand move up and down her back. Her skin felt hot with his touch. His hand moved upward until it cupped her nape, caressing her. She could not believe what his meandering touch did to her. His lips descended down her chin to her neck. A cry escaped her when his lips found a sensitive spot which sent vibrations cascading through out her. Sensations she had never known yet desired. She had never been held in this way by anyone. Never had she felt so alive.
The next moment he held her head in his hands as if she was his captive. He ravished her mouth. Shock tensed through her. She could feel the need within him for her submit. Then as if reason took hold, he drew back. His eyes never left her widen eyes. He reached over and in a slow gentle motion caressed her face.
"Tell me now of this undying love you have for another," he said demanding an answer from her.[subscribe2]