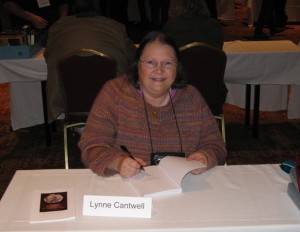 I don't mean to brag, but I had 850 people show up at my first book signing.
Okay, they might have been there to see Gene Wolfe, or Stephen R. Donaldson, or Elizabeth Bear, or Peter Straub, or Patricia McKillip, or…well, you get the idea. But I was there, too!
"There" was the 2010 World Fantasy Convention, in Columbus, Ohio. This annual convention travels to various venues around the world – last year's was in Brighton, England – and is geared toward speculative fiction in general and fantasy in particular. Membership is capped at 850, and many of the attendees are authors, agents, and editors.
I went with friends, and we all went because Donaldson was going to be there. But one of the questions on the sign-up form was, "Are you an author?" I'd just had my first novel published by a small press, so I checked "yes" and put in the Calderwood Books website since I didn't have one of my own yet. Not only did they believe me, but they put me on a panel. And they let me sign books with the big guys on Friday night. Continue reading "My Best-Ever Author Weekend"