It is one year since I published my first novel. I cannot begin to describe in a mere 750 words the journey I have made over the last year. Self-publishing is certainly a roller-coaster ride, and not for the faint of heart.
I affectionately refer to last year as "The Year of the Apocalypse." I learned first hand what it is to battle health issues. It was not my desire to be able to evaluate the expertise of an I.V. technician, nor did I wish to experience the constipating effects of narcotics. These were realities I had to face as I struggled through the self-publishing process. You can read about the details of my health crisis on my blog here and here.
As I lay in bed after a bout with a kidney stone, I was visited by a man. I immediately knew him and there was a connection between us. Some might say that oxycodone has this effect, but I prefer the opinion of a psychologist friend. I needed this person to make me laugh and to distract me from the two surgeries that were in my immediate future. He was as real to me as if he stood in my bedroom.
It would have been easy to lie in bed feeling sorry for myself and ignore the gift (my visit from David Fanning) that had been given to me. I was in pain and I certainly had a right to wallow in self-pity. It is easier for humans to see the negative and to invent conspiracies where none exist. It is much more difficult to fight against these natural tendencies and refuse to be dominated by fate, chance, age or even complications of dehydration.
I put down the other manuscript that I had started, the second in the murder mystery series, and wrote something totally different. First person POV, heavy on the dialogue. The first draft was done in a month. I put it on the back burner and let it simmer like a nice red sauce. After the second surgery I decided it had potential, and I asked a friend of my daughter to read it.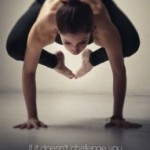 I had given myself until January 1, 2012 to heal. I then began the slow process of getting back in shape. Returning to Yoga was humbling. Accepting what I had lost in the last six months was eventually replaced with the gratitude that I could be there sharing in this wonderful practice. After six months of sweat and focus I can now do Crow.
When Randall was finished reading the first draft we met for coffee, and I nervously waited for his opinion. I had never used a beta reader before. His feedback was critical because the genre involved lifestyle aspects that I wanted to present properly. Not only did he mark the draft, but he wrote pages of notes at the end. His questions and constructive criticism were crucial and immensely helpful. He liked the story.
After the first rewrite I asked another friend of mine to read it. He used the tracking function in Word and he not only did an edit, but commented when I needed to clarify a point or go into greater detail. My desire to be more precise in my descriptions was not always creating the full visual. The rewrite that followed was extensive.
Then, I printed the entire manuscript and read it myself. I had realized from a few oversights in the first book that I simply could not see errors on the computer screen. My husband read it as well. A third rewrite followed.
Through all this I searched for a local editor who I could meet to communicate what I was looking for: the final polish. I knew from the discussions I followed that I needed someone who was comfortable with American English. I also realized it was a good idea to have a person who was an editor and not a writer. I did not want the manuscript to be rewritten by someone else. I found a woman in Sarasota, Florida who fit my requirements. My direction to her was, "I want you to take out a can of Pledge and make the manuscript shine."
After all my rewrites there were still grammatical issues and punctuation that needed to be adjusted. Carole used the tracking method, which I was now familiar with. She also pointed out some words I overuse, and some of my habits of prose. I did not realize that I loved the words but, very, really, gorgeous and pretty. Thank God for the search function in Word. Each use from the list of suspect words was analyzed within the sentence to see if it was the best word to communicate my meaning. This was not fun, however, it was a crucial part of the editing process and it taught me about my own writing habits.
A question I often see on writer's threads is, "When is a manuscript finished?" I don't know the answer to that question for you, but this manuscript is complete. It began in pain and frustration and ends with elation and a sense of accomplishment. As with everything I write, its goal is to entertain. It has style. I don't expect this novel to change your philosophical outlook. I just hope you enjoy reading it.
And what of the man who visited me and inspired me to write this story? David throws great parties and he is the most fabulous vampire you'll ever meet.