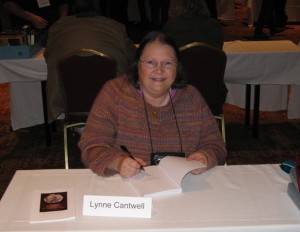 I don't mean to brag, but I had 850 people show up at my first book signing.
Okay, they might have been there to see Gene Wolfe, or Stephen R. Donaldson, or Elizabeth Bear, or Peter Straub, or Patricia McKillip, or…well, you get the idea. But I was there, too!
"There" was the 2010 World Fantasy Convention, in Columbus, Ohio. This annual convention travels to various venues around the world – last year's was in Brighton, England – and is geared toward speculative fiction in general and fantasy in particular. Membership is capped at 850, and many of the attendees are authors, agents, and editors.
I went with friends, and we all went because Donaldson was going to be there. But one of the questions on the sign-up form was, "Are you an author?" I'd just had my first novel published by a small press, so I checked "yes" and put in the Calderwood Books website since I didn't have one of my own yet. Not only did they believe me, but they put me on a panel. And they let me sign books with the big guys on Friday night.
The mass autographing session is a World Fantasy Convention tradition. It's pretty crazy. They set up long tables in a ballroom-sized conference room, and they give you a table tent with your name on it. Seating is first-come, first-served, and the lines to get a popular author to sign books can be long. When Neil Gaiman was an honoree in San Diego in 2011, the line to see him wrapped around the ballroom. And he didn't get to everybody; the convention organizers had to set up a second signing later in the weekend just for him.
Then there are the dealers, who set up outside the room with crates of unsigned books and send runners with stacks of books into the autographing session. The runners stand in the lines, get the books signed, and bring them back to the dealers – who can then sell the signed books as collectibles.
There was no line in front of my table, alas, and none of the runners had my book in their stack. But my friends gathered around my table, had me sign their copies, and chatted as if I was an actual somebody. One of my buddies even took my picture as I signed his book. I caught at least one passer-by eyeing my table tent to try to figure out who the author was who had attracted such a crowd.
It was really hard to go back to the day job the following Monday, let me tell you.
I'll be attending my fourth World Fantasy Convention next month. This year, it's in Washington, DC, just ten minutes from my house. It's the convention's 40th anniversary, and as part of the festivities, the organizers are pulling together an electronic anthology – a thumb drive containing works contributed by about 200 authors and artists, including a short story by Yours Truly. Yes, that's right – I'll soon be in an anthology with the likes of Gaiman and Donaldson.
Don't worry, though. I'm not going to let success go to my head. Of course, I'd be happy to sign one of my books for you – but you'll have to get in line.