Author Aron Joice is pleased to announce the release of her book, The Rising (The Lost Children of Managrail), now available at Amazon and Barnes and Noble.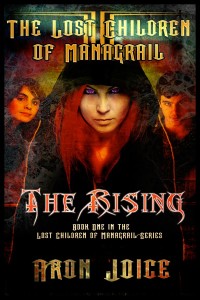 Managrail has been at peace for one hundred years, but things are about to change. After a near-fatal fall, Prince Simian and his sister, Lila, find themselves lost in an unknown land, forced to embark on a dangerous journey.
Far away, another brother and sister return home, only to find their village of Dirth plundered and their family murdered. Two brother and sisters, different in every way, are brought together by tragedy.
As the queen's champion leads a search for the heirs, a colorful cast of allies joins them. Can the powers of the enchanted Light Bringers help them escape from ancient beasts that hunger for the taste of human flesh, and save their lands and people from the dark powers of an evil sorceress? Love-ambivalence-betrayal. Who will live and who is to be trusted?
For more information about Aron, see her Amazon author page and her blog.