The Dragon Gem is the first installment of a new epic fantasy series, Korin's Journal, by Brian Beam: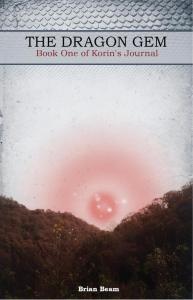 With nothing to go on but a vague dream which may or may not be memory, Korinalis Karell has traveled Amirand for three years in search of his birth parents. With a magical Contract to fund his journey and a magic talking wizard cat named Max to keep him out of trouble, Korin has made his way through the world with no success in finding them.
However, what starts out as a seemingly simple Contract job to find a stolen gem for a count quickly turns into a fight for survival that brings about revelations about Korin's life that turn his world inside-out and upside-down.
With the aid of a mediocre wizard who happens to be the daughter of the most powerful wizard in Amirand, a chatterbox Kolarin, and Max, Korin sets out to discover the secrets of his past so that he may live to see his future.
This is a firsthand account of Korin's journey as he chases down thieves, is chased down by a dragon and gods-forsaken creatures of death, and finds out that life just never seems to get easier.
The Dragon Gem is available from Amazon.
[subscribe2]