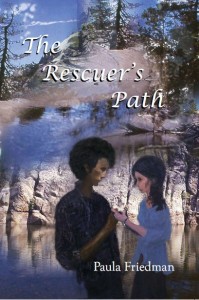 Today we have a sneak peek from Paula Friedman's historical/young adult novel, The Rescuer's Path:
In 1971, Malca Bernovski, a Holocaust survivor's daughter, goes horseback riding and discovers wounded antiwar leader and terrorist suspect Gavin Hareen. She aids him, and trust builds between them, becoming love. They flee cross-country, but FBI pursuit closes in; shielding Malca, Gavin is fatally shot. Bereft, Malca yields their baby at birth for adoption.
Thirty years later, that daughter finds Malca; in reuniting, each can let go of past loss.
The Rescuer's Path is available on Amazon.com Continue reading "Sneak Peek: The Rescuer's Path by Paula Friedman"