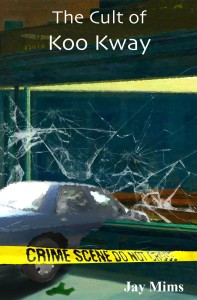 The Cult of Koo Kway
by Jay Mims

Dan, Abbey, and Doc are all back and so is trouble in this second novel by cozy mystery author, Jay Mims.
Dan's sister Jules, high profile criminal defense attorney, has asked for his help with a very dangerous client.
Just as soon as Dan takes the case, Doc shows up poisoned on Dan's doorstep and the only clue is a reference to an old movie, The Cult of Koo Kway.
This book is available from Amazon, Barnes and Noble and Smashwords. Be sure to check out Jay's blog as well. Here is an excerpt from The Cult of Koo Kway, by Jay Mims: Continue reading "The Cult of Koo Kway by Jay Mims"