Seattle-based author Michael Richan has written horror fiction for thirty-five years. His book, The Bank of the River, was an extremely popular Kindle download during its promotional days, reaching #2 in Horror and over 5,000 downloads. He is most appreciative of his fans and the great reception they have given The River series, which consists of three books: The Bank of the River, A Haunting in Oregon, and Ghosts of Our Fathers.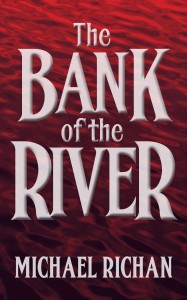 The Bank of the River
Available from
Amazon.
Steven is anticipating a quiet sabbatical at a new home. Instead, knockings and grisly apparitions begin to haunt him, relentlessly tormenting him at night. With a recent divorce and a son in college, he is left alone to deal with the ghosts lurking in the shadows of his house.
Steven is determined to find a rational explanation. His father Roy offers to help, and soon Steven discovers Roy has dormant supernatural skills. Steven's natural skepticism clashes with Roy's "gift," but soon Steven finds himself assisting Roy as he battles the forces inside his home. Together they unearth something much more sinister and evil than either expected: ghosts are just the beginning of the problem!
The Bank of the River is a fast-paced and thrilling horror novel that explores evil, ghosts, disturbing creatures, and the supernatural gifts a father and son use to fight them.
A Haunting in Oregon
Available from Amazon.
Mason Manor, tucked away in the forests of Oregon – historic, beautiful, and completely haunted. The estate, built in 1850, is now a bed and breakfast run by Pete and Sarah. Once a wonderful place to stay, now it's not so great – guests don't survive the night, and are found the next morning in bed, in a pool of blood. Pete and Sarah turn to an old friend, Roy, who has "the gift," but are they too late to stop whatever malevolent force is prowling the halls at night?
Roy and Steven jump into the mystery and find things are much worse than they appear. They endure horrific encounters with the ghosts of the manor and discover a sinister force at work. Roy and Steven will need to use Roy's gift and marshal the help of others to save Mason Manor from the terrors within.
Ghosts of Our Fathers
Available from Amazon.
Steven is scared – he's awakened in the middle of the night by a mysterious figure that threatens to kill him. Is it a ghost, or some other evil creature? Steven's determined to figure out what it is and how to stop it. He would normally turn to his father, Roy, who is educating him on how to use "the gift" to deal with ghosts and other threats, but Roy isn't available. Steven turns instead to his "gifted" friends Eliza and Daniel. Daniel's an expert on time, and they all soon discover the true nature of the threat: it comes from the past and it's worse than any of them realized. Strange ghosts and creatures stand between them and the solution. Time is running out as Steven, Roy, Daniel and Eliza dig into the past to learn of half-finished business that is coming back to haunt them all.