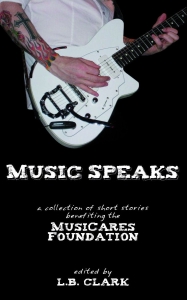 Author LB Clark is pleased to announce the release of Music Speaks, an anthology of short stories featuring authors Christopher T. Grace, Ann Cathey, David Antrobus, Pam Bainbridge-Cowan, Erin McGowan, James Clark, Laurie Sorensen, JD Mader, and LB Clark.
Music is everywhere, seeping into every corner of our lives, and it has a special kind of magic. It can spark a long-buried memory, bring people together, change a mind, or even save a life.
Within the pages of Music Speaks are eleven short stories from nine independent authors. These stories cover a wide range of genres—from romance to dystopia—but they are all unified by a single theme: the power of music.
100% of profits from the sale of this book will go to the MusiCares Foundation—a non-profit organization that helps musicians in times of need.
Music Speaks was published 6/17/2012 by Lone Star BookWorks. It's available in ebook format through Smashwords, Amazon.com, and Barnes and Noble. It will soon be available in print as well.