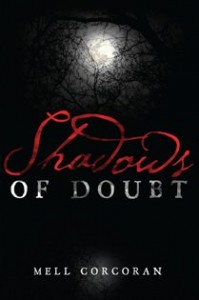 Shadows of Doubt
by Mell Corcoran
Mystery, Crime, Thriller with a touch of Romance and a Paranormal twist
Available from Amazon.
Have you ever been in far too deep to turn away? Detective Lou Donovan is convinced there's a serial killer on the loose but she has no evidence to prove it. Every step she takes to try and solve the case brings her closer to uncovering a dark secret that will alter her world forever.
Book excerpt:
She proceeded cautiously through the burned out hull of some sort of outbuilding, possibly an old barn or corral once upon a time. Any trace of daylight was long gone, making anything five feet in front of her lost in the pitch black of the moonless night. Not a sound stirring, not even a shuffle from Vinny in the distance as she carefully climbed over a pile of wood that appeared to have once been a barn door. She could smell stale hay and kerosene as she ducked under a collapsed rafter, proceeding deeper into the ruins and trash. He was in here. She could feel it and she shut off her flashlight so as not to give him a spotlight on his target.
What others say:
"Her latest offering, Shadows of Doubt, is a mystery/thriller that challenges your every perception and shakes the marrow of your bones."  – T. Hall.