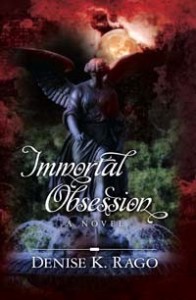 Immortal Obsession
by Denise K. Rago
Genre: Paranormal Romance
Word count: 67,500.
As a young man in 18th century France, Christian Du Mauré impulsively follows his best friend into the complex and warring world of the Parisian vampires. Against the backdrop of the French Revolution and following an affair with a mortal aristocrat, he promises to watch over her daughter- only to learn the child is his.
Now settled in Manhattan, only two descendents of his union remain, Amanda and her brother Ryan. After Amanda witnesses a savage murder in Central Park she is determined to find the ethereal stranger who saved her life.
When their worlds inevitably collide, Christian finds he cannot prevent Amanda from becoming a pawn in a centuries-old struggle for power. As a confrontation between ancient enemies comes to a head, Christian must face a betrayal from his past that haunts him and threatens the woman he loves.
This book is available from Amazon, Smashwords, and Barnes&Noble.
Denise, how did you come up with the title for your book? Does it have any special meaning?
Actually my husband came up with the title. I was agonizing over it when he blurted out 'how about Immortal Obsession?' It just made sense because the story revolves around several vampires who each became obsessed with mortal women and have sustained their fascination with them over the centuries.
Who was your favorite character and why? 
Definitely the vampire Christian Du Mauré as he is based on a man I knew in a past live who I loved then and still feel connected to in this lifetime. Christian is complex. He feels deeply and remains loyal to those he loves despite being a loner.
Does your book have any underlying theme, message, or moral? 
Themes of guilt, regret, betrayal and loss run through Immortal Obsession as well as the message that love is timeless and eternal. The main character, Christian Du Mauré never loses the intense love he feels for his mortal lover or the deep connection to his best friend, despite lies and betrayals by them both.
What would/could a reader or reviewer say about this book that shows they "get" you as an author? 
That they fell in love with the characters and they are all very real; complex and flawed and they have not lost their humanity despite being vampires.
Give us an excerpted quote from your favorite review of this book: 
Immortal Obsession is a book with so many layers of history and emotion you simply can't stop turning the pages to see what happens next.
Where can people learn more about your writing?
www.denisekrago.com