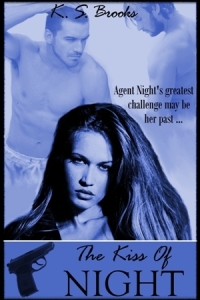 The Kiss of Night
by K. S. Brooks
Character-driven drama with a touch of suspense and romance
Available from Amazon and Smashwords..
Special Agent Kathrin Night's career is over; a career-ending injury has her walking with a cane. FSB Agent Aleksey Khovechkin, Russia's deadliest operative, is sent to protect her. Will being in close quarters with the gorgeous Russian chip away at Kathrin's tough exterior? Or will it unleash a past full of painful memories?
Book excerpt:
The Russian opened the door wearing nothing but a pair of form-fitting boxer briefs. Kathrin's eyebrows raised; she couldn't help but admire his muscular body, which partially shielded the semiautomatic handgun he held in his right hand.

"What's wrong," he started. Then he noted her body-hugging fleece jacket. "You are dressed."

"And you…are…not." Her eyes traveled the length of his entire body, then back up to his face. "Uh…the septic guy is coming, remember? He'll be there at 6:30."

Aleksey's eyes instantly awakened. "I'm sorry. I will be ready." He turned, giving Kathrin a better view of his sculpted ass. She lingered, watching, just a moment longer.
What others say:
"…one very intense, modern day love story filled with many twists and turns – some serious and sad – some sexy and passionate – but very captivating, capricious and a page turner all the way!"  – Carla Gallway of Book Monster Reviews