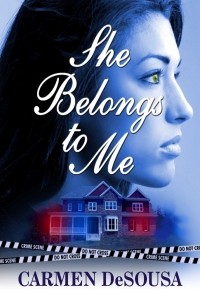 She Belongs to Me
by Carmen DeSousa
Genre: Romantic-Suspense
Word count: 105,000
After secrets and a mysterious background leave a wife's life hanging by a thread, a husband must look for answers in the only place he knows—the past.
When wealthy construction company owner and Charlotte detective, Jordan Monroe, meets Jaynee for the first time he is awestruck and determines to make her his wife. Jaynee, however, has a history she cannot easily overcome and is fearful to submit to love. Jordan succeeds in making her his wife, but five years into their marriage, he realizes she is keeping secrets. Before he can decipher her duplicity, he discovers her unconscious in their home from a gunshot wound only hours after giving her an ultimatum concerning their relationship.
With Jaynee's life hanging in the balance, the mystery of her past drives Jordan to investigate. But what appears to be an attempted suicide turns out to be something far darker. Is someone from her past stalking her? Or worse, is someone close to Jordan trying to kill them both? As Jordan edges closer to the truth, it may be deadlier than he could ever have imagined.
This book is available from Amazon, iTunes, and Barnes & Noble.
How did you come up with the title for your book? Does it have any special meaning? 
A line in the book says it all! The degenerate struggled to stand erect while Jordan pounded another punch into his mouth. His face turned blood red under his hands. "She doesn't belong to you! You had your chance, and you blew it. She Belongs to Me," Jordan seethed. "Now you want to return, and take what's mine?"
Who was your favorite character and why?
Without a doubt, Jordan Monroe is my favorite character. He is strong, loving, protective, smart, and he has massive amounts of southern boy charm. He can kill a person with his bare hands, but holds the woman he loves in a tender embrace.
Does your book have any underlying theme, message, or moral? 
All of my novels are about overcoming your past and learning to trust in love, even when everyone you've ever known has failed you.
What would/could a reader or reviewer say about this book that shows they "get" you as an author? 
"Her characters are life-like, sincere, and execute their roles with perfection. The dialogues are realistic and to the point, as are the characters' thoughts, which add to the scenes." — Robert Lee Carey, Jr. "Sandbridge Author"
Give us an excerpted quote from your favorite review of this book: 
"Carmen DeSousa has written an incredibly stunning book, full of spot on visuals that put you in the midst of the conversations, like a ghostly guest that spies on a romantic dinner date. The love that builds slowly up between Jaycee and Jordan is written just steamy enough to hold your attention, but full of enough decorum as not to be considered overdone." — Ashley Fontainne "Ashley"
Where can people learn more about your writing? 
http://www.carmendesousa.com/