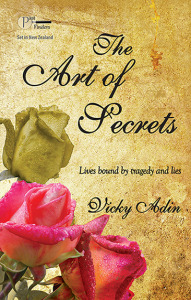 The Art of Secrets
by Vicky Adin
Genre: Women's Fiction
58,600 words
Emma Wade's life has fallen apart and her career is rapidly going downhill. In a last-ditch effort to keep her job, she reluctantly agrees to write an exposé on the aged and reclusive author Charlotte Day.
Charlotte, who has lost the passion to write, is suspicious and distrustful of people and doesn't want anyone digging into a past she considers shameful. However, she recognises her need to leave a legacy of some kind, and hesitantly accepts the project.
Wrestling with her own secrets, Emma worms her way into Charlotte's past. But some memories are too precious or too painful to share – especially the causes of her descent into isolation. As they struggle forward, the two women are surprised to find much to like about each other. Their unusual relationship deepens; will they learn to trust again… Or will reliving the past be too much for either of them to handle?
The Art of Secrets is available at Amazon.com and Amazon UK. Continue reading "Book Brief: The Art of Secrets"