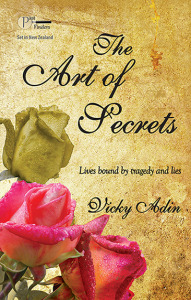 The Art of Secrets
by Vicky Adin
5.0 average rating from 1 review
254 pages
Emma Wade's life has fallen apart and her career is rapidly going downhill. In a last-ditch effort to keep her job, she reluctantly agrees to write an exposé on the aged and reclusive author Charlotte Day.
Charlotte, who has lost the passion to write, is suspicious and distrustful of people and doesn't want anyone digging into a past she considers shameful. However, she recognises her need to leave a legacy of some kind, and hesitantly accepts the project.
Wrestling with her own secrets, Emma worms her way into Charlotte's past. But some memories are too precious or too painful to share – especially the causes of her descent into isolation. As they struggle forward, the two women are surprised to find much to like about each other. Their unusual relationship deepens; will they learn to trust again… Or will reliving the past be too much for either of them to handle?
The Art of Secrets is available at Amazon.com and Amazon UK.
Excerpt from THE ART OF SECRETS by Vicky Adin

The phone disturbed my reverie.
"Lottie! How's things, sweetie?" Ray's voice on the other end of the line instantly provoked me to rudeness. I was not his 'sweetie' under any circumstances. And I hated it when he called me Lottie. Rude bastard.
"What do you want?" I really did need to get rid of him. He was no longer any use to me despite his achievements over the last decade.
Nothing fazed Ray. "I just thought I'd see how you were getting on with that journalist girl. What's her name?"
"You should know. You sent her to me."
"Oh, give us a break, sweetie …"
"Don't call me sweetie! One more comment like that and you're fired."
Goodness, I had let the evil witch out of the cage, I thought, suddenly feeling pleased. Emma's visits had made me face the past I had kept hidden for sixty years, but no more. I would relive my past and think about it coherently from the distance of time and decide whether to keep it hidden or share it. I didn't have the answer right now but making the decision to revisit everything lifted a huge weight from my shoulders.
Ray suddenly became much more circumspect and polite, apologising for upsetting me and telling me what he had planned in the way of exposure and promotion.
"Just leave it for now, will you please, Ray? I'm not satisfied with my latest efforts, and I've put them in the drawer until I can give them further consideration."
By the time he'd finished blustering about keeping my name in the public eye and not losing momentum, I'd had enough. "Stop. I don't need you, and I don't need promotion any more – I have more than enough titles out there. I'm terminating our contract. I'll ring you if and when I want to use your services again."
I hung up.
He'd be furious and try to ignore the fact I'd just fired him. He would worry about what would happen to the story Emma was supposed to be writing and what impact it would have on him, but I had no intention of letting him know I proposed carrying on with Emma. I wanted to know her story. I wanted to tell my story. I wanted someone to know the truth. I wouldn't worry Michael.
The next time she came, I would have another story for her … but some fragments could not be shared, not ever. There were some things I would never, could never, speak about. They were almost too hard for me to remember.
 *****
He came to my room – my special wintertime room. The one I treasured because it was mine. I didn't have to share any more. He came to punish me again, but this night my mother discovered him there.
"Don't you dare touch her," she screamed, flaying at him. "Get out, you filthy dog. Get out!"
I hid under the bedclothes as her voice reached fever pitch.
"I swear I'll kill you. If you so much as touch her again, I will kill you."
Peeking over the top of the blankets, I couldn't see my mother's face. Her back was to me. His face was a deep red, like he was boiling and ready to explode. I'd never seen a look like that on anyone's face before. I had no words to describe it but it frightened me.
He never touched me again, but I soon learnt that when I made him angry he would punish my mother instead. I was ten.
I closed my eyes. I still had five more years to block out before the new me began.