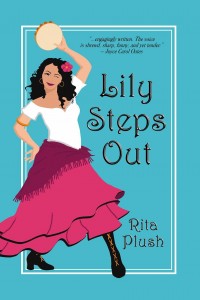 Lily Steps Out
by Rita Plush
Genre: Women's fiction
Word count: 73,000
Lily Steps Out is a middle-age, coming-of-age story of a suburban housewife who is sick of making beds and fixing breakfast and decides to step out of the comfortable domestic life she knows into the business world, much to the mocking disbelief of her loving husband, Leon, now retired, and their grown son, both perfectly content with The Way Things Are.
Not only does Lily love her work in an antique store, but when she decides to branch out further and turn an old frame house into an antique center—she'll sublet the rooms to different vendors to cut down on her costs—a good business strategy, she thinks, especially since she never thought she had a head for business. But when she tells Leon her game plan, not only does he pooh-pooh the idea, but by the time she gets to their joint savings account to withdraw the lease money, Leon has cleaned it out. "This is trust?" she asks herself. "This is marriage? No! This is war!"
With a little help from her friends, Lily steps out of the tired old habit of always letting Leon have his way. And, while she's at it, she breaks the mold of Lily Gold. This time she turns the status quo into quid pro quo and gives Leon a run for the money. Lily's journey is the journey of every woman who wants love, respect and personal fulfillment.
This book is available from Amazon, Smashwords, and Barnes & Noble. Continue reading "Book Brief: Lily Steps Out"