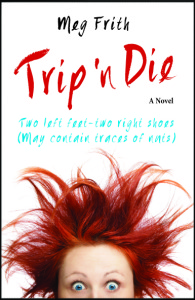 Trip 'n Die
by Meg Frith
Genres: chicklit, women's fiction, humor
Word count: 104,000
Jennifer Cornwall is five-foot-two, over-nourished, with red, gravity-defying hair that makes her think she was conceived the day God invented the Koosh Ball.
At twenty, she's trapped in a numb life at a photocopying firm. Uneventful – except for the workplace bullies. Despite her Aunt Emily's gentle encouragement, she believes other girls have the perfect gene-take-home-pack with a side order of social skills, while she trips 'n dies at every turn.
When a striking new employee, Lucy, starts at work, Jennifer really struggles with her own mediocrity. Her flatmate suggests she finds some focus with the help of a clairvoyant. After misinterpreting the reading, Jennifer embarks on a wacky self-improvement campaign. She also discovers Aunt Emily has issues of her own and sets out to solve them.
It's a journey through strengths, weaknesses and comical crises, but oh, what a journey it turns out to be … for everyone.
Trip 'n Die is available from Amazon.com and Amazon UK. Continue reading "Book Brief: Trip 'n Die"