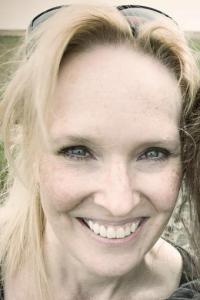 Guest Post
by Julie Frayn
My fingers fly across the keyboard, dialog flows, characters evolve and grow minds of their own. Then they lead me somewhere a little …. um…. dirty.
A line of dewy sweat jumps from my brow. I dip my big toe in, but snatch it back. The water is too darned hot. I dive in again, my heart beats a little too fast. Type, type, type. Delete, delete, delete. Self-doubt overtakes my mind and embarrassment pinks my cheeks.
I think I need a shower.
Why are my characters doing this? Did I really just write that? Is that even a real body part? My hand flies to my mouth, agape at one sudden and horrific thought.
"What if my mommy reads this?"
The first sex scene I tried to write played out something like that. By the time I was done, I'd toned it down, used metaphors and euphemisms. In the end, the story lacked spark. It lacked realism. It kind of sucked. All because it needed sex, and I was too afraid to open the bedroom door and let the reader peek inside. The truth? I let fear win.
Writers face many fears. It can paralyze a writer before they even put pen to paper (or fingers to keyboard). Fear of success, fear of failure, and one of the biggest fears – fear of the reader. What if I offend someone? What if they think I'm nuts, or stupid, or that I'm writing about me shooting heroin and prostituting myself and murdering my husband?
We write about some pretty gritty stuff – sex and violence and love and hate and loss and joy. A veritable roller coaster of emotion and circumstance, some easily imagined, some kind of horrific, and some just a tad wacky. But if fear wins, if readers never see your words, then what is the point of writing at all?
While the fear of failure still pokes me in the ribs now and then, the fear of being read has melted away. And with that thaw, my writing grew in leaps and bounds. It became more vivid, brave, raw. And that is a very good thing.
Last year I was invited to write a personal post for Rachel Thompson. Her only requirement was that I 'dig deep.' So I wrote about my relationship with anorexia. I had written about it before, but when I reviewed my original essay it was obvious I'd cleansed reality. It was nice. It wasn't the whole truth. So I shoved it aside and started over. What resulted was an honest, brutal, and not particularly flattering look at a time in my life that I am not proud of. A time that shaped me, not just physically, but emotionally and health-wise for years to come. Here's the thing – that piece received the most positive feedback of anything I'd written before. Why? Because it was brave.
So when you sit down to write, set the reader aside. Write like no one is reading. Be brave and "write for the jugular," as my excellent editor, Scott Morgan, says. Not everyone will love the result – it's impossible to please the whole world. Brace yourself for criticism. But prepare for praise too. And most importantly, praise yourself. It is amazing what can be accomplished when we set aside the fear.
---
Julie Frayn pens novels and short stories that pack a punch. And a few stabs. Her work has won two gold medals in the 2013 Authorsdb cover contest, and the Books and Pals 2014 Readers' Choice award for women's fiction. A bean counter by day, Julie revels in the written word. When she is not working or writing, she spends as much time as possible with her two children (grown adults, really), while they still think she's cool. Julie's novels include Mazie Baby, It Isn't Cheating if He's Dead, and Suicide City, a Love Story, in addition to one short-short story collection, A Trilogy of Unrelated Shorts. You can learn more about Julie on her website and her Author Central page.